I developed this recipe years ago and have served it at many parties.  This flavorful recipe is exotic and will wake up your taste buds.  I find that there are so many party foods out there that don't take advantage of the hundreds of spices that are out there for us. I found that this recipe is best after mixing the meat ingredients together and leaving it rest in the refrigerator overnight before making the meatballs; the flavors really have time to meld.  The combination of the meatballs with the sweet and savory apricot sauce is comforting but yet sophisticated.  So when you are pondering what to serve at your next cocktail party, go exotic, go chic and don't let your guests go home with a stomach full of boring and bland food.
Meatballs:
1 small onion (peeled and finely minced)
1 garlic clove, minced
1 pound of ground lamb
½ teaspoon ground allspice
2 teaspoons ground cumin
2 teaspoons sweet paprika
1 teaspoon dried oregano
1 teaspoon powdered coriander
¼ cup mint leaves finely chopped
¼ cup of toasted sesame seeds
½ cup of dry cream sherry
½ cup of dried apricots
1 tablespoon Worcestershire sauce
1 cup of bread crumbs
1 egg, lightly beaten
½ teaspoon of salt and pepper
Saffron Apricot sauce
2 pinches of saffron threads
1 (32 oz.) jar of apricot jam
2 teaspoons Dijon mustard
2 tablespoons of lemon juice
1 (14 oz.) jar chili sauce (like Heinz)
½ cup of honey
¾ cup of cream sherry
1 tablespoon curry powder
1 teaspoon garlic chili sauce (I know this is an Asian item, but it's really good)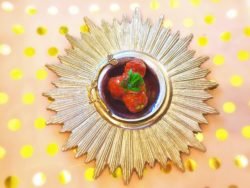 Preheat oven to 400 degrees F
Put the dried apricots in a microwave safe bowl and pour sherry over them and warm up in the microwave for a couple of minutes and let sit so it can soften, set aside.
Mix all other ingredients except the apricots in a large mixing bowl or you can use a stand mixer for this
Put the apricots in a food processor and grind into a paste
Add  the apricots to the lamb mixture and mix well
Form into cocktail sized meatballs, there should be about 30 of them, the size of a walnut.
Place on a greased sheet pan and place in oven for 10 minutes so they can firm up
While the meatballs are in the oven place the Saffron Apricot glaze ingredients into a slow cooker and mix well, turn the slow cooker on low.
Add the meatballs to the slow cooker with the sauce and gently stir so the meatballs are covered in sauce.  Let cook covered in the slow cooker for 5 hours on low.
Note: if you want to skip the "slow cooker" method, just cook the meatballs in the oven for 20 minutes and stir them into the sauce on the stovetop until nice and bubbly.
Also, serve it as an entree with some couscous, your dinner parties will never be the same!