I created this marvelous, silky and creamy Wild Mushroom Ragu to be served over a mini polenta square in spoons as a festive appetizer for a cocktail party and it is so delicious.  This creamy dish is so comforting on a cold winter evening and is so versatile with so many dishes; not only fabulous on polenta but wonderful over pasta, rice or as a brunch item over fluffy biscuits.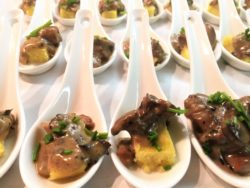 Ingredients
2 tablespoons olive oil
2 tablespoons butter
3 large shallots, chopped
2 garlic cloves, minced
½ pound of cremini mushrooms
½ pound of chanterelle mushrooms
4 oz. dried mixed mushrooms, soaked in 3 cups boiling water for 15 min
2 cups of reserved mushroom soaking liquid
½ cup dry Marsala wine
1 teaspoon fresh thyme
¼ teaspoon coarse ground black pepper
¼ teaspoon kosher salt
1 cup of heavy cream with 1 tablespoon of corn starch stirred in
2 tablespoons chopped fresh chives
¾ cup grated Parmigiano Reggiano cheese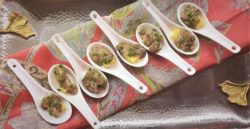 Instructions
Pour 3 cups of boiling water over the dried mixed mushrooms and let soak for 15 minutes
Heat oil and butter in a large skillet over medium high heat on the stovetop and add the shallots and garlic and sauté for about 5 minutes
Strain the soaking dried mushroom mix and reserve 2 cups of liquid, chop the reconstituted mushrooms and add to the other mushrooms in the skillet and continue to cook until most all the liquid has been evaporated.
Add the 2 cups of reserved mushroom liquid, Marsala wine, thyme, pepper and salt and simmer for 15 minutes
Add the heavy cream with the corn starch, chives and Parmigiano Reggiano cheese and simmer for another 5 minutes.
Serve this over polenta, pasta, rice or even biscuits
Serves 4 to 6 as a main course