Creating this soup was a lot of fun, I was looking around my kitchen to see what I had on hand, I did not want to go to the grocery store and yet I wanted something comforting, delicious and satisfying.  It's a cold, dark and rainy January afternoon and I wanted to stay in and cuddle with my cats and dream of warmer days, but dreaming of summer does not get soup cooked does it?  I think you will be pleased in the outcome of this recipe, it's rich and creamy texture with a hint of roasted heat from the chipotle would fool many people that there is cream in it.  This healthy vegan version on classic potato chowder is full of robust flavor and is kind to your waistline.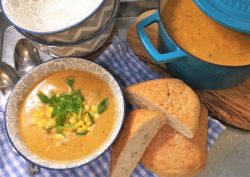 Ingredients
2 tablespoons olive oil
2 stalks of celery, chopped
1 cup of chopped onions
1 cup of chopped carrots
¼ teaspoon kosher salt
½ teaspoon coarse ground pepper
½ teaspoon dried thyme
½ teaspoon dried oregano
1 tablespoon cumin powder
3 cups of vegetable stock
2 tablespoons of chipotle chilies in adobo, diced fine
5 cups sweet potatoes, peeled and cubed (about 3 medium)
2 cups of corn
3 cups of almond milk or other plant based milk
1/3 cup nutritional yeast
2 tablespoons of corn starch
Directions
Heat the olive oil in a 6 quart pot over medium heat and sauté the celery, onions and carrots along with the salt, pepper, thyme, oregano and cumin powder for about 8 minutes, stirring occasionally.
Add the vegetable stock, chipotle chilies, sweet potatoes and corn and bring up to a small boil and then turn down and simmer for about 15 minutes or until fork tender
Pour the almond milk in a bowl and whisk in the nutritional yeast and the corn starch until dissolved
Add to the soup and continue to simmer for another 10 minutes until it thickens slightly and turn off.
Take 3 cups of the soup and put in a blender and blend until smooth and add back to the soup and mix in.
Ladle into bowls and garnish with a little extra corn and chopped green onions if desired, serves 4 to 6.