Wonderful textures and flavors come together in this beautiful curried coconut couscous salad, what makes this dish fun is that I have served it as a unique appetizer at dozens of parties over the years in a Chinese soup spoon.  This salad doesn't lack texture or flavor, I love the Israeli couscous or also called pearl couscous, it is much different to the tiny couscous that is served so often.   The "bite" that this bigger couscous has is really satisfying combined with the sweet fruit, crunchy nuts and the curry coconut dressing.  For a light meal, serve a big portion along with a salad, perfect for lunch or dinner…you might even want to try serving it in spoons like I did as a chic appetizer that all your party guests will love.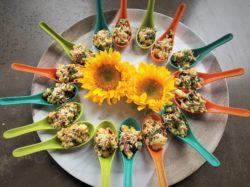 Ingredients
2 teaspoons olive oil
1 ½ cups of Israeli pearl couscous
2 ½ cups vegetable broth
1 tablespoon yellow curry powder
¼ teaspoon kosher salt
¼ teaspoon coarse black pepper
½ teaspoon turmeric
1 teaspoon cumin
1 cup of garbanzo beans, drained and rinsed
¼ cup of golden raisins
¼ cup of dried cranberries
1 English cucumber, chopped
¾ cup of roasted cashews, roughly chopped
4 green onions, chopped
1 cup of shredded coconut, toasted for garnish
Chopped chives for garnish
Dressing
1 cup coconut milk
¾ cup mango juice
Zest and juice of 2 limes
¼ cup of honey
2 teaspoon curry powder
¼ teaspoon kosher salt
¼ teaspoon cayenne pepper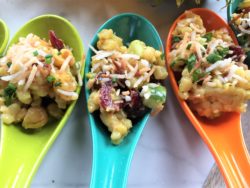 Instructions
Drizzle the olive oil in a sauce pan over medium heat and add the couscous and cook for about 4 to 5 minutes, stirring occasional until it is lightly toasted. Add the vegetable broth, curry powder, salt, pepper, turmeric and cumin and bring to a boil over high heat, turn down to simmer and cover.  Cook for about 10 to 15 minutes or until the stock has been absorbed, empty into a mixing bowl, fluff with a fork and let cool.
Add to the couscous, the garbanzo beans, golden raisins, cranberries, cucumber, cashews and green onions, toss lightly.
Add all the dressing ingredients into a small bowl and whisk well, mix thoroughly into the couscous, cover and chill for several hours. This dish can be made the night before serving.
Garnish with toasted coconut and chopped chives. Serves 6 to 8 regular sized portions, if you want to serve it as a small bite appetizer in a spoon, this would serve a several dozen…so party on!