I catered a party last year for a client whose father was turning 80 and he requested a menu with several small bites and to include some Scandinavian dishes since his father is from that country and many of his friends that were coming to the party were from that region as well.  I said sure, no problem and of course, searched the internet for foods that people enjoy from the Scandinavian Peninsula.  Other items that were on the menu were Swedish meatballs, a classic dish I serve all the time and Toast Skagen, both are fabulous dishes and people raved over the Toast Skagen, that recipe is on this post: http://recipeforaparty.com/463
Anyway, I searched for salads and vegetables that were popular as well since I wanted to mix in a light item to the menu.  I came up with this potato salad recipe that has items from many Swedish vegetable dishes and it came out delicious or as Swedes would say "utsokt" and was a hit, I served it in small glasses to keep the theme of the "small bites" menu.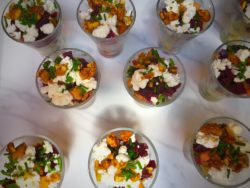 Ingredients
1 ½ pounds of Baby Yukon gold potatoes, unpeeled
3 Celery stalks, sliced
2 tablespoons chopped Italian flat leaf parsley
½ medium Red onion, chopped
1 ½ cup of cooked, peeled beets, chopped
6 oz. of crumbled Goat cheese
½ cup roughly chopped candied walnuts
2 tablespoons chopped chives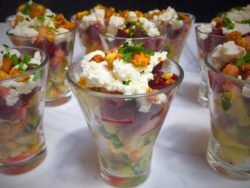 Mustard Dill Vinaigrette
Ingredients
½ cup extra virgin olive oil
1 Tablespoon Dijon mustard
2 Tablespoons Honey
2 Shallots, halved
1 garlic clove
3 Tablespoons Champagne vinegar
1 tablespoon fresh chopped dill
Kosher salt and course black pepper to taste
Put all the ingredients into a blender except the dill, blend well and stir in the dill and adjust
the flavor with salt and pepper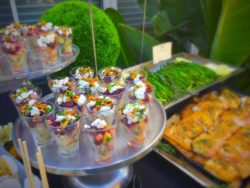 Instructions for potato salad
In a 6 quart pot with salted water, boil the potatoes for about 15 minutes until just tender with a knife, drain and set aside to cool. Cut the potatoes into small cubes and put into a large bowl
Put the beets in a small bowl and add two tablespoons of vinaigrette; toss well and set aside.
Add the remainder of the vinaigrette to the potatoes along with the celery, parsley and toss well.
At this point, refrigerate the potato salad and the beets separately for at least 2 hours.
To serve, toss the potatoes well and pour into serving bowl, sprinkle the beets on top (unless you want a pink salad, don't toss them in the salad) sprinkle the goat cheese on top of the beets, followed by the walnuts and the chives.  Serves 6