I love cooking food with Asian flavors and this versatile sauce is so good on so many dishes.  I used this sauce over a chilled Asian Peanut Pasta salad and it's wonderful, tangy, and creamy with a nice tone of different spices and a bit of heat.  Use it over hot or cold pasta dishes, dip fresh vegetables in it, use it as a dip for many different Asian appetizers like shrimp summer rolls or wontons.  This sauce has endless possibilities, if you like peanut butter then this is a recipe you need to keep close by.  Oh, also try it with chicken or beef satay skewers.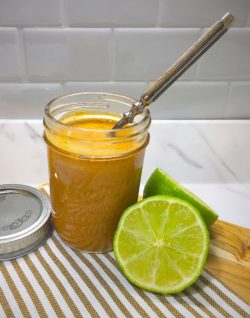 Below pictured is Chicken Satay with Peanut Sauce…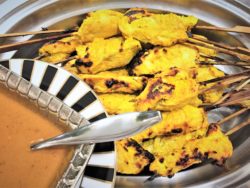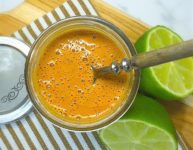 Peanut Lime Sauce
A savory Asian style peanut sauce that is great as a dip for chicken or beef satay and even fresh vegetables!
Ingredients
3/4

cup

peanut butter, smooth

1/4

cup

rice vinegar

2

tbsp

sesame oil

3

tbsp

brown sugar

1/4

cup

reduced sodium soy sauce

1

tsp

chili powder

1

tsp

cumin

1/4

tsp

cayenne pepper

1

lime, juice and zest

1/2

cup

water

1

tbsp

Sriracha

2

tsp

minced ginger

1/4

tsp

kosher salt
Instructions
Put all the ingredients in a blender and blend until smooth and creamy, if too thick add a little more water, if too thin, add a little more peanut butter

Place in an airtight container or jar if not using right away, if using this a s a chilled sauce for salads or other chilled dishes, refrigerate for two hours or make the day before. Makes 2 cups