The weather around here has been really warm and spring like and it has me craving asparagus, my favorite spring vegetable and it's perfect in this dish.  Frittata, an Italian originated dish which literally means, fried beaten eggs has many variations worldwide and is a delicious brunch dish or you can serve it as an appetizer like I did before a seated dinner.  In a formal or casual setting, frittata is a true comfort dish; the earthy sweet asparagus paired with eggs and Gruyere cheese with the bright flavors of the pepper coulis is fabulous.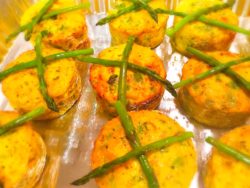 Move over quiche, this gluten free cousin of yours' is coming for you at the breakfast dish and will put up a fierce fight…lol… Like my Sicilian Great Nonna used to say to me when I was a kid, mangia la tua colazione! (eat your breakfast)… As my sister and I starred at our bowl of frosted corn flakes and back at each other in horror because my great grandma ran out of milk one morning and she poured coffee over our cereal and demanded we eat it…true story!  She did not speak a word of English, bless her heart. My Great Nonna pictured below with my sister, I think it was 1970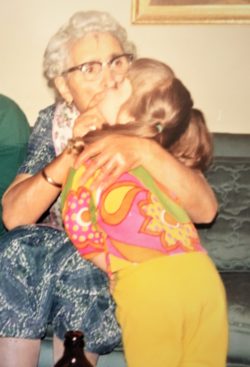 Ingredients
1 tablespoon butter
1 tablespoon olive oil
12 Asparagus, chopped
Additional 8 asparagus, trimmed and left whole
1 cup sliced Leeks
2 teaspoons chopped garlic
6 eggs
½ teaspoon kosher salt
½ teaspoon coarse ground Pepper
¼ teaspoon cayenne pepper
1 tablespoon fresh chopped tarragon
2 teaspoon fresh thyme
½ cup heavy cream
1 cup shredded Gruyere cheese
¼ cup parmesan cheese
4 -8oz ramekins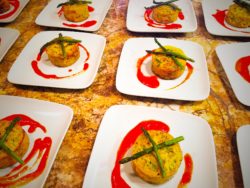 Roasted Red Bell Pepper Coulis
1 roasted bell pepper from a jar, drained
½ garlic clove
1 tablespoon sherry vinegar
½ teaspoon paprika
4 dashes of hot sauce
1 tablespoon fresh lemon juice
Pinch of salt and pepper
Directions
Put all ingredients into a food processor and blend until smooth, adjust flavor with salt and pepper if needed.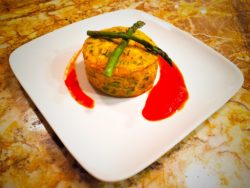 Directions for the frittata
Melt the butter and olive oil in a medium skillet over medium heat and sauté the chopped asparagus, leeks and garlic for about 8 minutes, set aside to cool.
Preheat oven to 375 degrees F
In a medium bowl scramble the eggs, add the salt, pepper, cayenne, tarragon, thyme, cream, Gruyere and parmesan cheese and mix well. Stir in the sautéed asparagus, leeks and garlic.
On separate sheet pan, place the 8 whole, trimmed asparagus and drizzle with olive oil and sprinkle with a pinch of salt and pepper and add to the oven along with the frittatas during the last 10 minutes of baking.
Divide the egg mixture among the well buttered ramekins and set them on a parchment lined sheet pan and bake for 20 minutes or until puffy and golden brown, let rest for 5 minutes and invert onto plate and drizzle with pepper coulis and garnish with roasted asparagus