I love pizza of all kinds and if you are like me, you dream about it often.  There's nothing like fresh baked pizza especially when you don't feel like cooking and you call for delivery.  Pizza is the ultimate comfort food that most of enjoy any time of day.  I love to serve pizza or flatbread as an appetizer at parties and I like being able to serve it as a small bite with my other appetizers so people get that crunch, savory comfort that they crave.  My recipe for this Chinese cashew chicken flatbread pizza brings together the flavor of one of my favorite Chinese dishes with my love of pizza.  I used a pre baked flatbread, making the recipe very easy to put together instead of making pizza dough; most all stores sell pre baked pizza crusts and flat breads.   So instead of asking your family if they want pizza or Chinese take out for dinner, make them this and they can have both in one bite!
12/13/19: You will ask yourself, where's the recipe?  Well, I just won grand prize in another Taste of Home magazine contest, so I removed it…as soon as I know when the issue is released, I will let you know so you can buy it and get my recipe…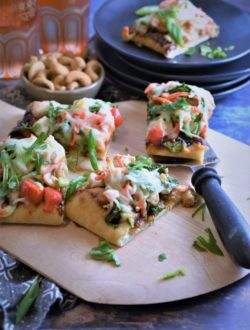 My fortune says "I see you eating more of this pizza in your future" my lucky day!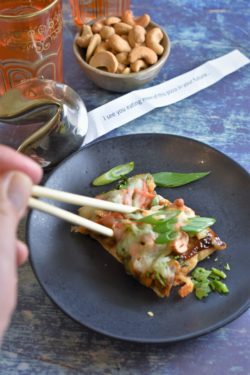 Fresh, crisp, tangy and savory all in one or two bites…