Comfort food comes in all shape, sizes and are from different cultures, regions, countries and states…so what do you eat when you are in Philadelphia?  A cheesesteak of course…and you can have this famous sandwich that has been a Pennsylvania favorite since the 1930's as a small bite with my new recipe for Philly Cheesesteak Bruschetta. This crunchy bruschetta with juicy chopped steak with sautéed onions, peppers & melted cheese will have you bringing back memories of eating this classic hoagie sandwich over a paper lined basket with a beer. My small bite sized bruschetta version is just as good and is perfect for your cocktail party…even the sophisticated high heeled ladies will be able to enjoy this classic treat since it's not so huge or messy.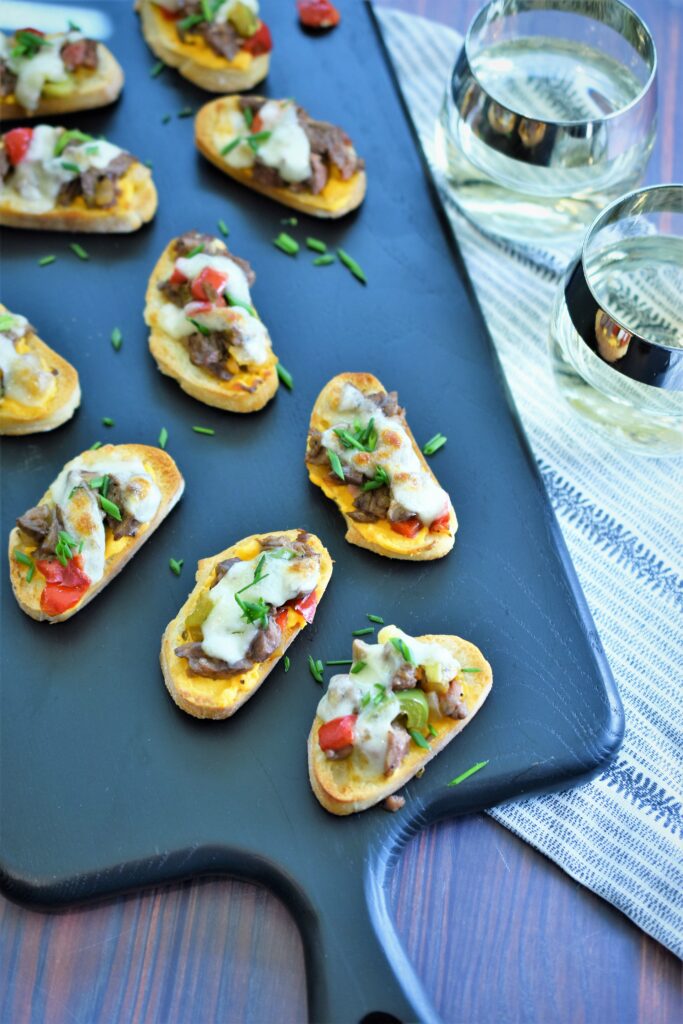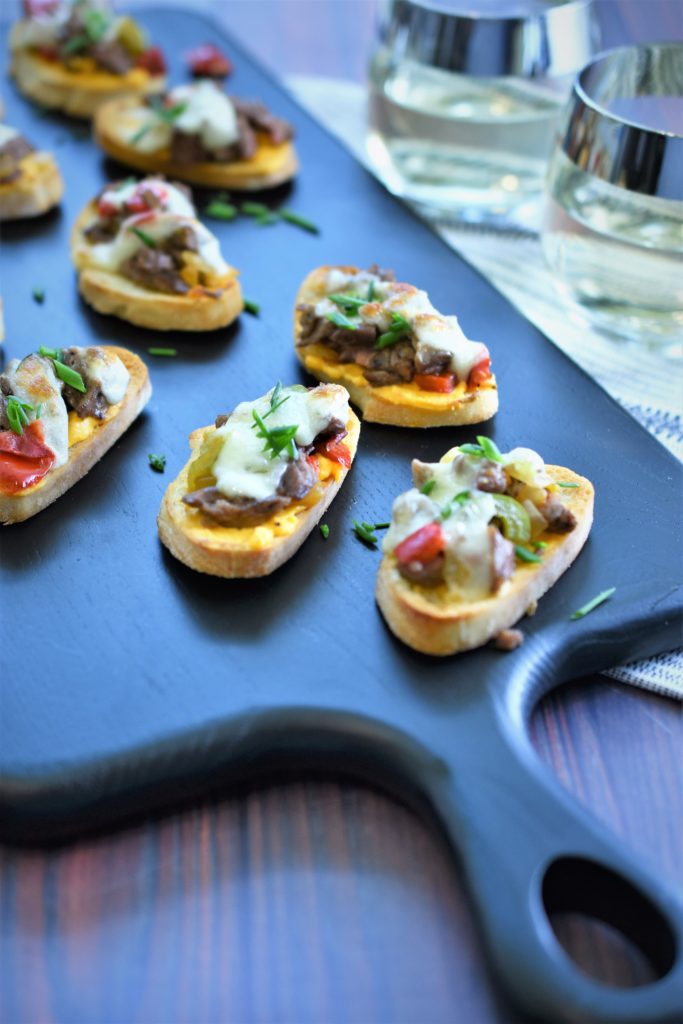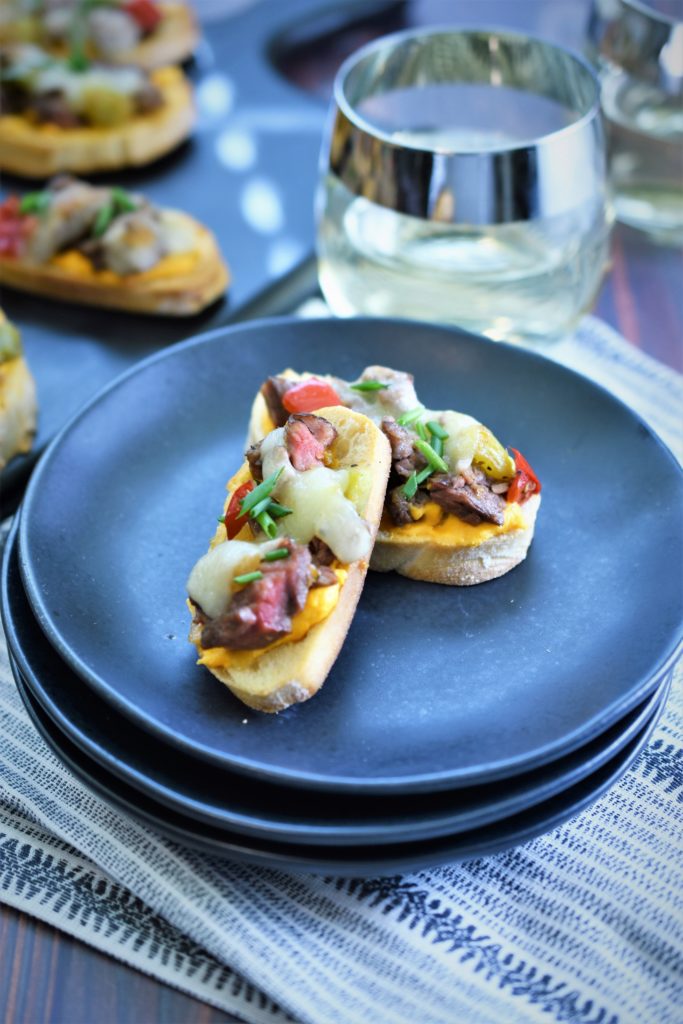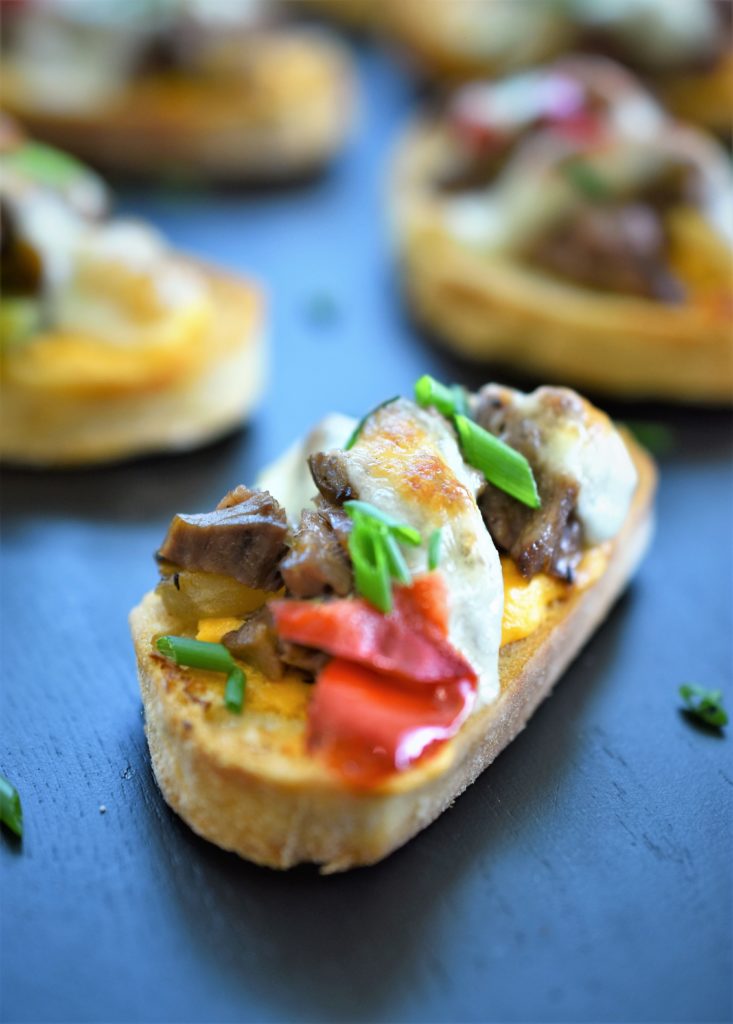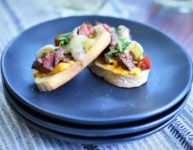 Philly Cheesesteak Bruschetta
All the things you love about the classic hoagie in a small appetizer bruschetta…you don't have to eat this one over the kitchen sink.
Ingredients
1

baguette, sliced into 30 slices

1

lb

skirt or flat steak

2

tbsp

olive oil, divided

1/2

tsp

kosher salt, divided

1/2

tsp

coarse black pepper, divided

1/2

cup

green bell pepper, chopped

1/2

cup

red bell pepper, chopped

1/2

cup

chopped onion

2

tbsp

pepperoncini, chopped

3/4

cup

Pub cheese, sharp cheddar flavor or other whipped, spreadable cheddar

5

Provolone deli slices, cut in half and into small strips
Instructions
Preheat oven to 425 degrees F

Place the sliced baguette on a sheet pan and spray with cooking spray or brush with olive oil and bake for 5 to 7 minutes or until golden brown, set aside to cool

Using one tablespoon olive oil, coat both sides of the steak and sprinkle ¼ teaspoon salt and ¼ teaspoon pepper

Place in a skillet over medium high heat for 4 minutes per side, take out of pan and let rest on a plate

In the same skillet, add the other 1 tablespoon olive oil, add the green, red bell peppers, pepperoncini, onion, ¼ teaspoon salt and ¼ teaspoon pepper and sauté until soft, 7 minutes, stirring occasionally. Take off heat to cool.

Cut the steak into small strips and cut across into small cubes, combine with the pepper & onion mixture

Top with 3 small strips of provolone cheese put in oven to broil until cheese in melted on top…don't step away and watch closely as to not let it burn

Makes 30 Serves 8 to 10 as an appetizer