Spread a little sunshine on your morning bagel with the ultimate cream cheese schmear with bacon peach & jalapenos. I enjoy noshing on a good bagel from time to time and I love spreading cream cheese on them. My flavored cream cheese includes sweet summer peaches along with jalapenos and the smoky bacon will give you more reasons to enjoy your morning; I can't resist the chewy texture along with a crisp side when you toast them. Bagels are great with cream cheese and smoked salmon but I also love them with different types of toppings as well.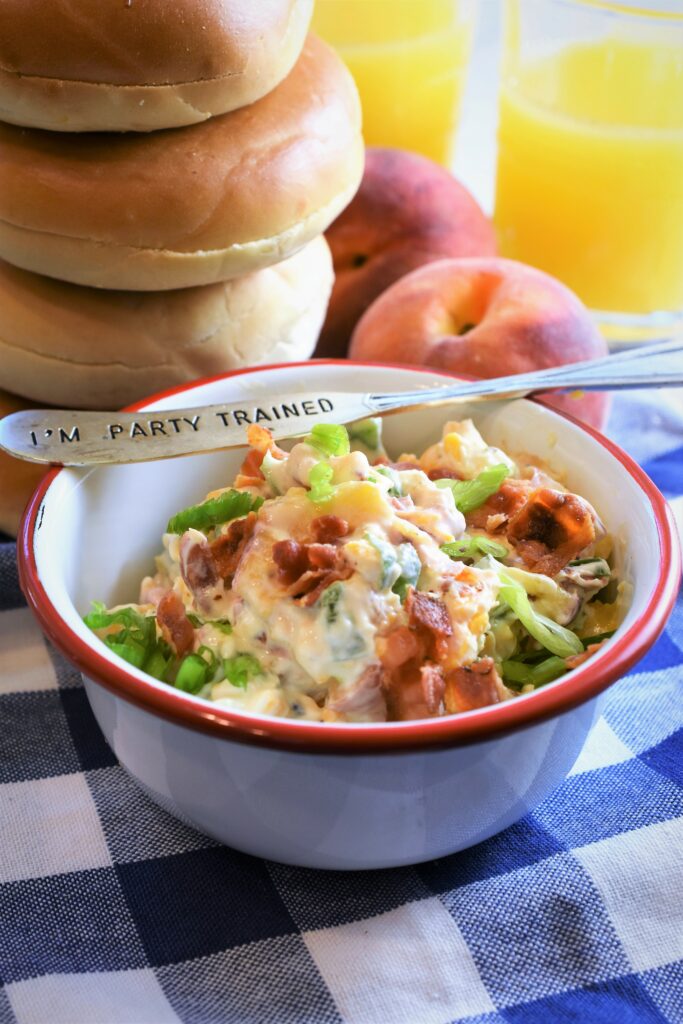 Slept in on Saturday morning? Make this easy peach, bacon & jalapeno schmear and host a brunch party in minutes. Furthermore, making breakfast for friends and family is easier by putting a tray of bagels out with this spreadable taste sensation.
Continental Breakfast… Not Just For Hotels Anymore!
A continental breakfast can be gorgeous and quick and bagels are perfect. Serve them with a variety of toppings the combinations are endless. Because smoked salmon, chicken salad, spreadable cheese, different flavored schmears, jams & jellies all go really well. Try my summer inspired peach & bacon schmear recipe and give your bagel another reason to celebrate with good food. Oy vey! don't sit there like a schmuck with a plain bagel, schmear some joy on it and have a great day!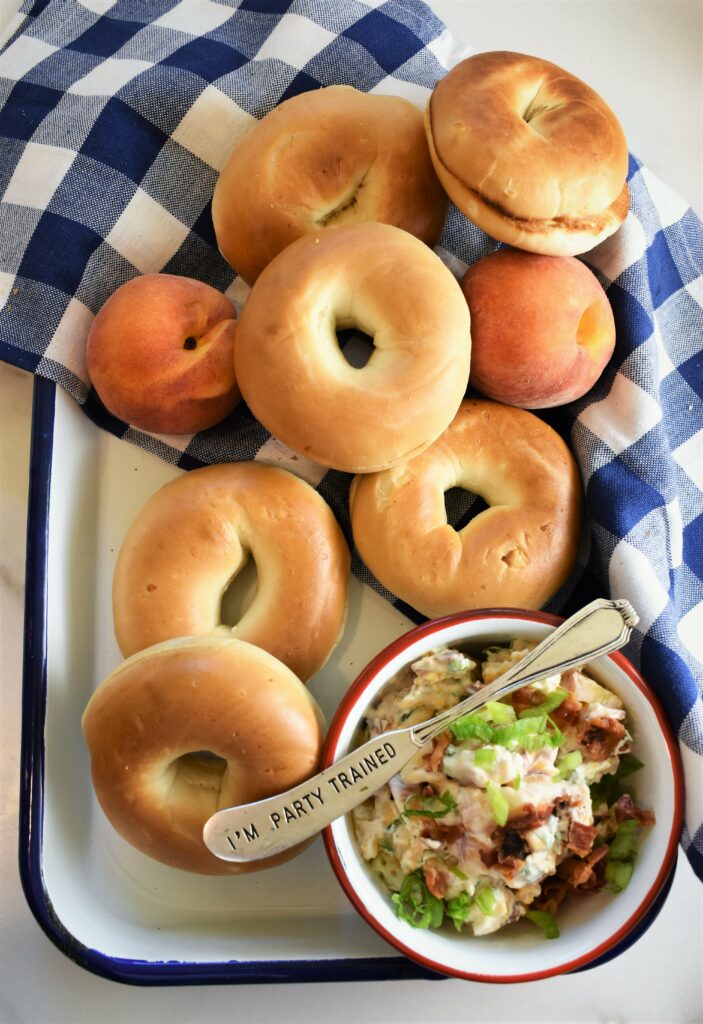 I texted my good friend Nancy a photo of a bagel with cream cheese and smoked salmon and she texted me back and said, "the food of my people". I giggled to myself thinking she just enjoyed them. But, I educated myself and didn't realize the long Jewish history of bagels. While reading this article I learned a lot about The Secret History of Bagels . I should text her a picture of my peach, bacon & jalapeno schmear. I bet she would drool over it.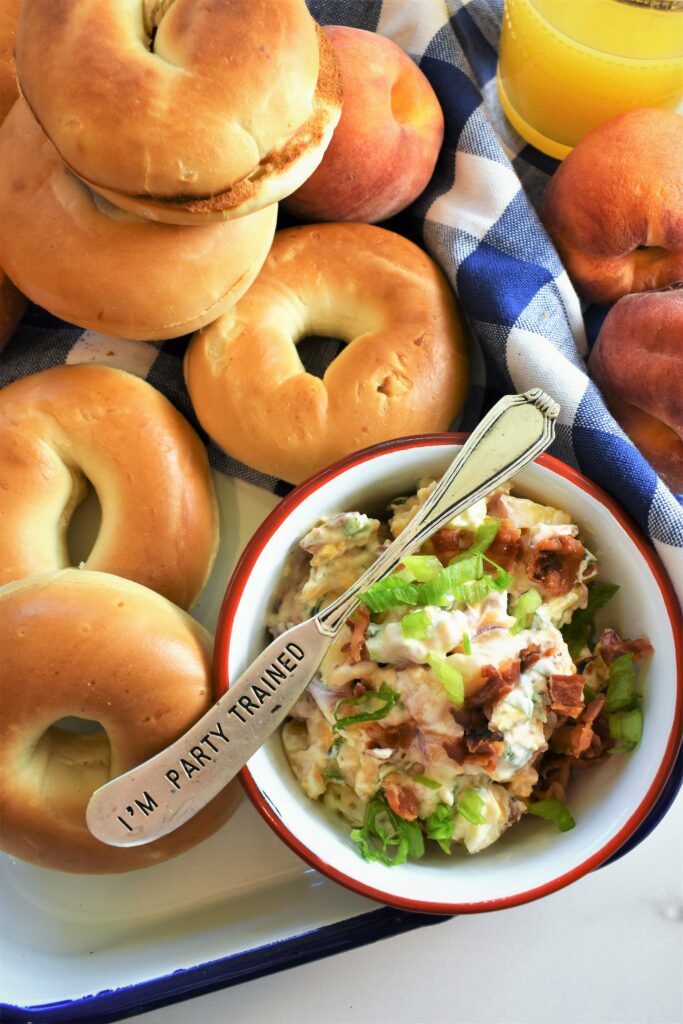 Ways To Serve This Scrumptious Peach, Bacon & Jalapeno Schmear…
Don't have a bagel laying around? It's okay…use your imagination with this ultimate peach, bacon & cream cheese schmear…
Try it as a sandwich spread on toasted ciabatta with smoked turkey or chicken breast plus update that boring turkey club into a turkey disco club!
I made corn muffins one night and had some of this amazing cream cheese left over so I put it on that and it was out of this world
Make brunch better by schmearing this over a crunchy waffle along with your mimosas…add gossip with friends and Saturday mornings couldn't be better.
Make that Happy Hour cheese board more fun and put a crock of this schmear with your cheese board and spread this tasty concoction over toasted baguette slices or crackers with a glass of wine.
When You Are Done Drooling Over The Ultimate Cream Cheese Schmear with Bacon, Peach & Jalapeno.
You might enjoy some of my other very popular brunch party favorites for a truly abundant breakfast feast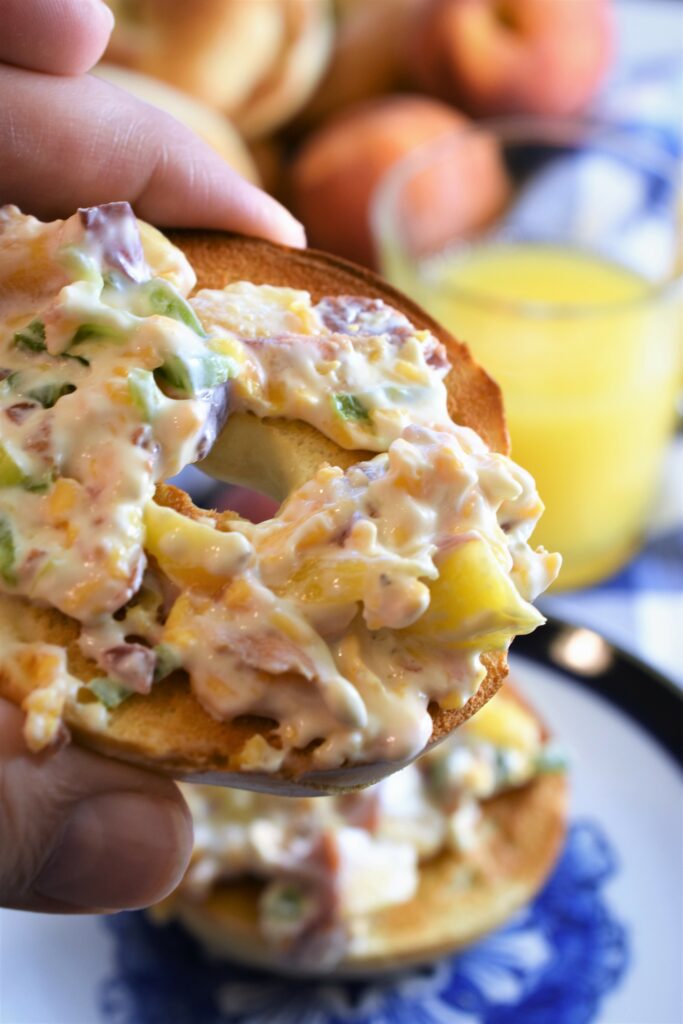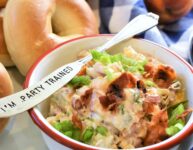 Peach, Bacon & Jalapeno Cream Cheese Schmear
This flavorful schmear combines many delicious flavors giving your bagel a reason to wake up in the morning
Ingredients
8

oz

cream cheese, softened or at room temperature

1

cup

sharp cheddar, shredded

1/4

cup

green onions, minced (about 2)

1/4

cup

jalapenos, seeded and minced

1/4

tsp

coarse ground black pepper

1/2

cup

bacon, cooked to a crisp, chopped, 8 slices

1

cup

peaches, diced
Instructions
In a medium mixing bowl stir together the cream cheese and cheddar until well combined

Stir in the green onions, jalapenos, bacon and black pepper

Fold in the peaches until well combined

Serve right away or cover and refrigerate until ready to use

Makes 2 1/2 cups, enough for 12 full sized bagels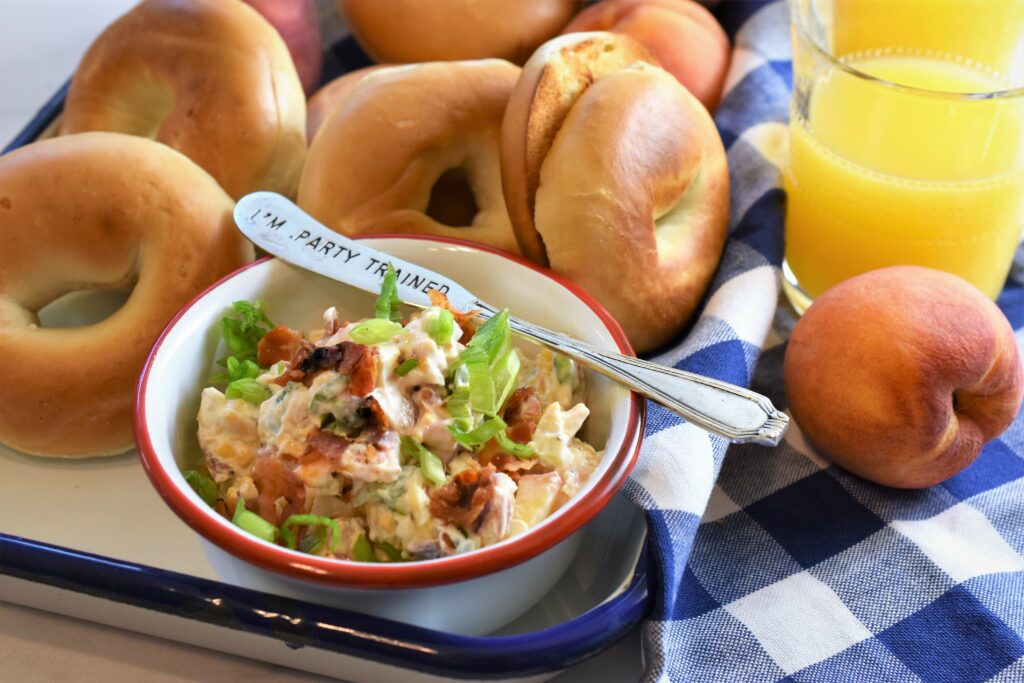 Jalapenos…How Hot Are They?
The heat in jalapenos varies from one to another, so taste a slice first, they might be mild so you won't have to seed them and you can just mince them up. If they are really hot, I would recommend seeding them and cutting the membrane out before chopping them up….you judge how spicy you want this