Cherry season is here and I'm so excited, cherries are my favorite! My recipe for this best ever summer fresh hibiscus, cherry and lime sorbet is mind chilling. So, don't eat this luscious sorbet too fast otherwise you will get brain freeze as most frozen desserts do. There are many options to serve this refreshing seasonal dessert. Scoop this sorbet in mini dishes for that perfect party bite among other desserts on your buffet. Serve this between courses at fancy dinner parties for a unique palette cleanser and surprise your guests. This sorbet is so flavorful combining the sweetness of the hibiscus flowers with cherries and just a hint of lime. Dust off your ice cream makers and get ready for frozen desserts this summer because you will want to make this hibiscus, cherry & lime sorbet over and over. Everyone around you, especially the kids will be screaming for more.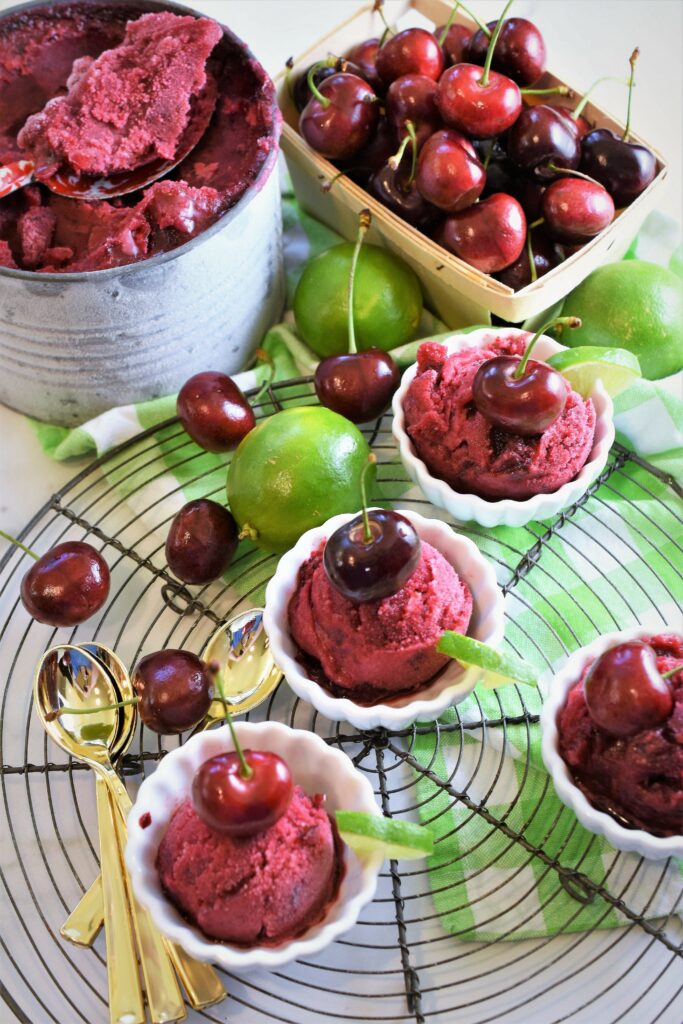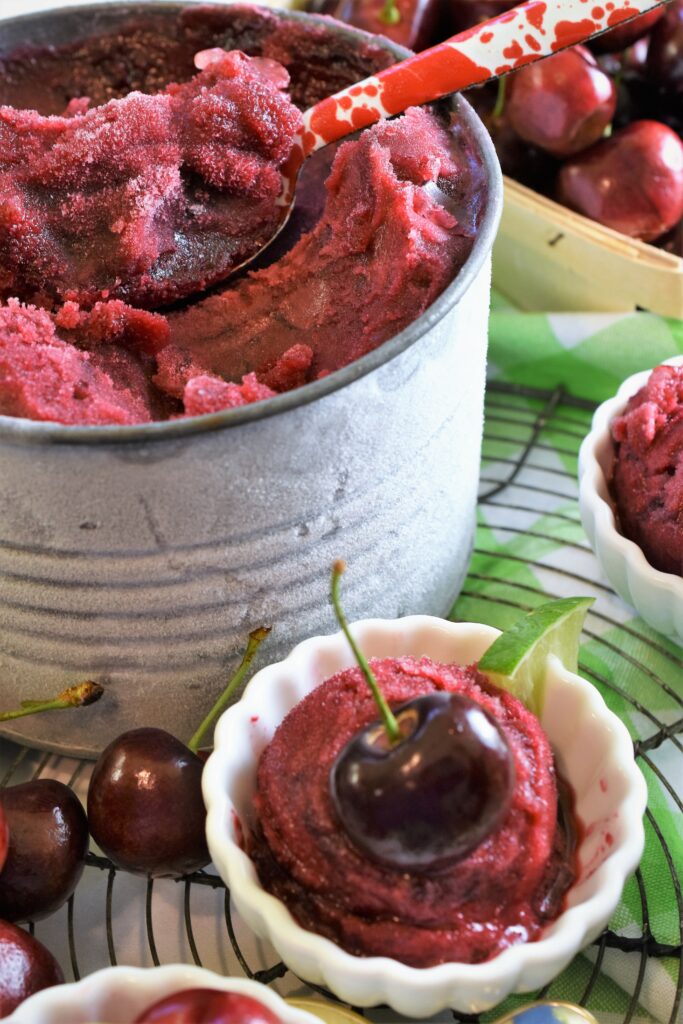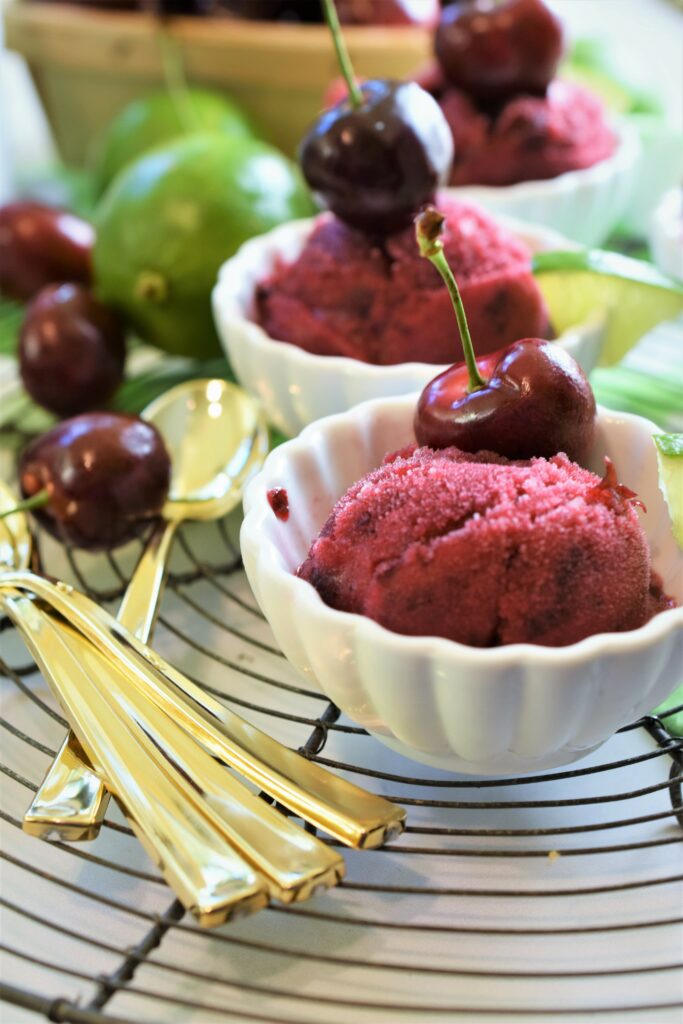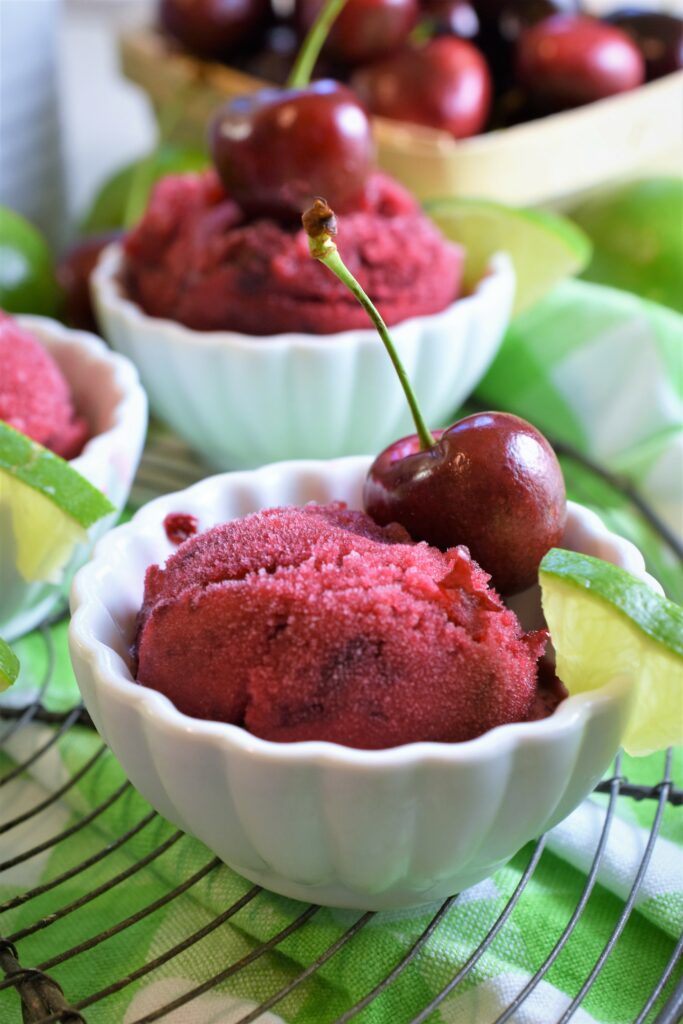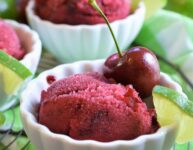 Hibiscus, Cherry & Lime Sorbet
This luscious sorbet combines the sweet flavors of hibiscus and cherry making for a beautiful dessert
Ingredients
3

cups

water

1 1/4

cups

sugar

1

cup

dried Hibiscus flowers

1/4

cup

lime juice

2

cups

fresh or frozen thawed pitted cherries

2

tbsp

light corn syrup
Instructions
In a medium pot over high heat, mix together the water, sugar and dried hibiscus flowers and bring to a boil, turn down to medium high heat for 3 minutes, stirring occasionally until all sugar has dissolved; take pan off heat and set aside to rest for 15 minutes

Strain the mixture through a fine mesh strainer over a bowl, pressing the hibiscus as you strain it to get all of the beautiful flavors, discard the solids and set aside.

In a work bowl of a food processor fitted with the metal chopping blade, puree the cherries

Add the cherries, lime juice and corn syrup to the hibiscus mixture, mix well and refrigerate until cold, about an hour.

Pour into a 1 1/2 quart ice cream maker and churn the mixture according to the manufacture's directions for sorbet until thick. Transfer to an airtight container and place in the freezer for at least 3 hours

Serve by dipping an ice cream scoop in hot water and scooping the sorbet into a dish, you can also transfer the sorbet from your freezer to the refrigerator for 20 minutes to soften it.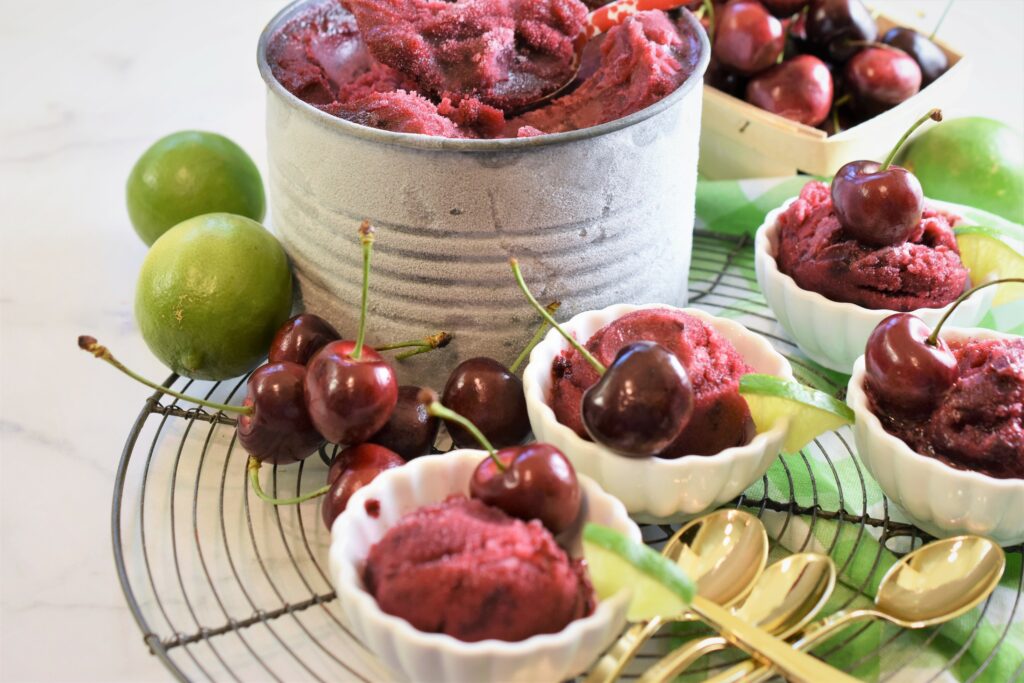 I live in the San Francisco Bay Area and luckily Hibiscus grows here and I have one growing in my garden, here is a great article on how to care for Hibiscus plants