My new recipe for these refreshing cantaloupe Caprese skewers with pepper jelly balsamic glaze is a perfect small pocket sized salad for any occasion, especially on warm days. Summer entertaining is among us so that translates to barbecue cookouts, pot luck parties, pool parties and picnics at the beach and that doesn't mean you have to serve those burgers and hot dogs to guests as soon as they arrive, they would want an appetizer to go with their watermelon martinis to start like at any party, so be civilized when you entertain okay! Having an appetizer at a party is the quintessential conversation starter and it welcomes party guests and gives their taste buds something to wake up to before the main course. Nestle a platter of these skewers in between those chips and dips and give your party guests a refreshing take on the classic Caprese salad.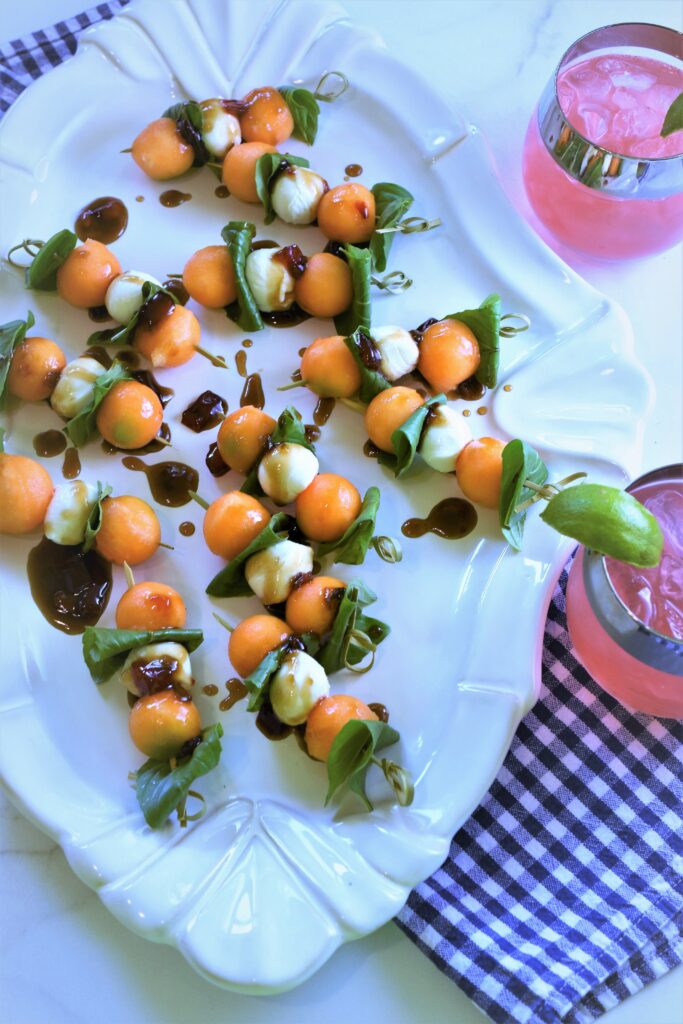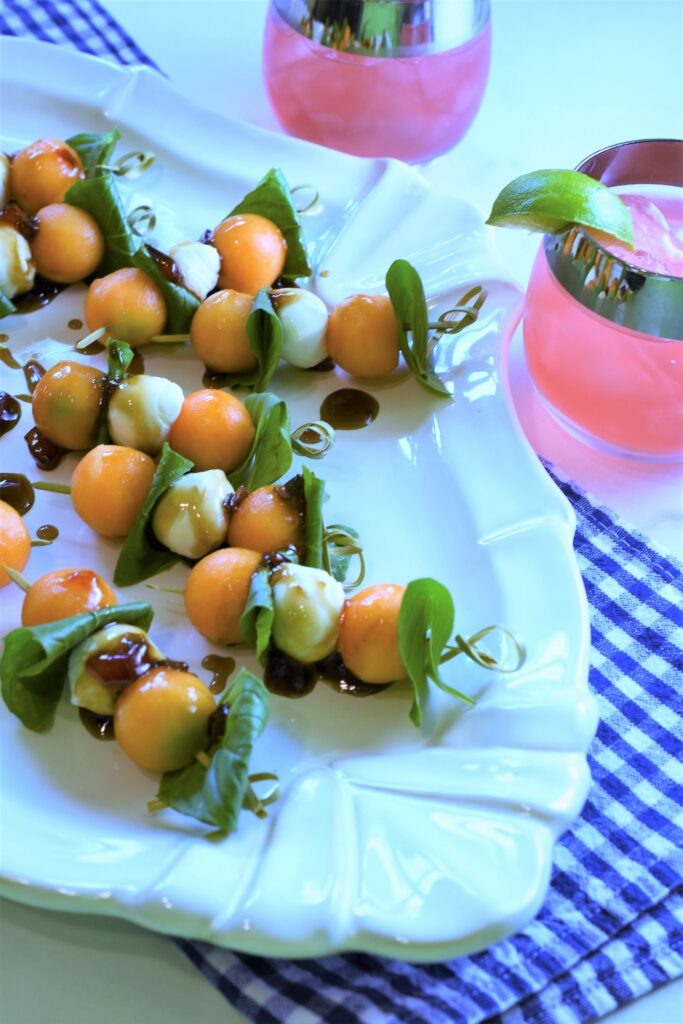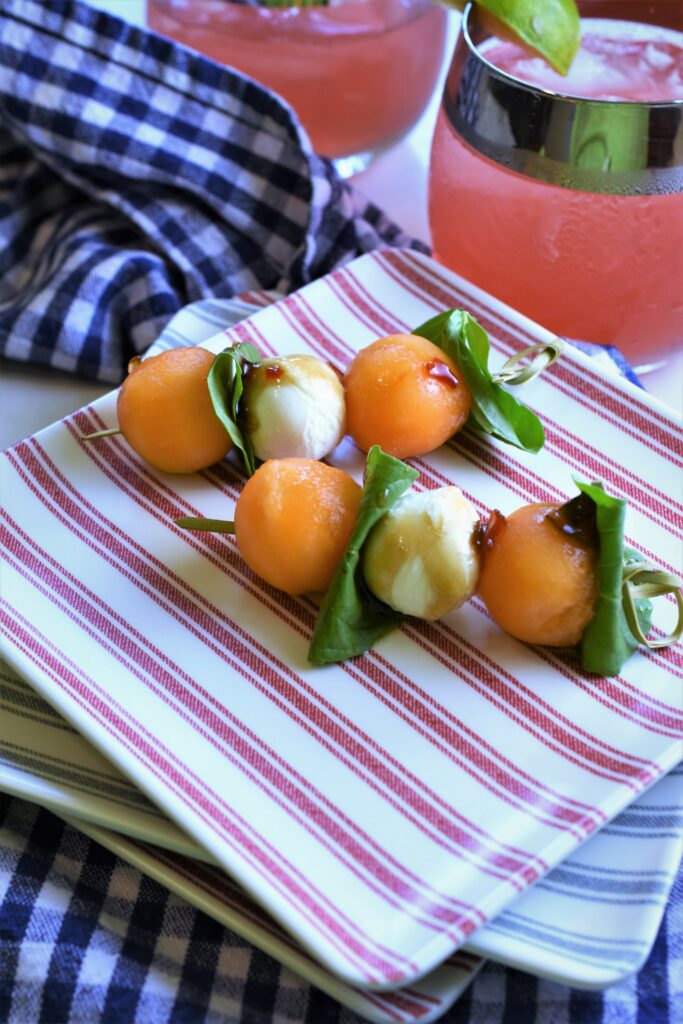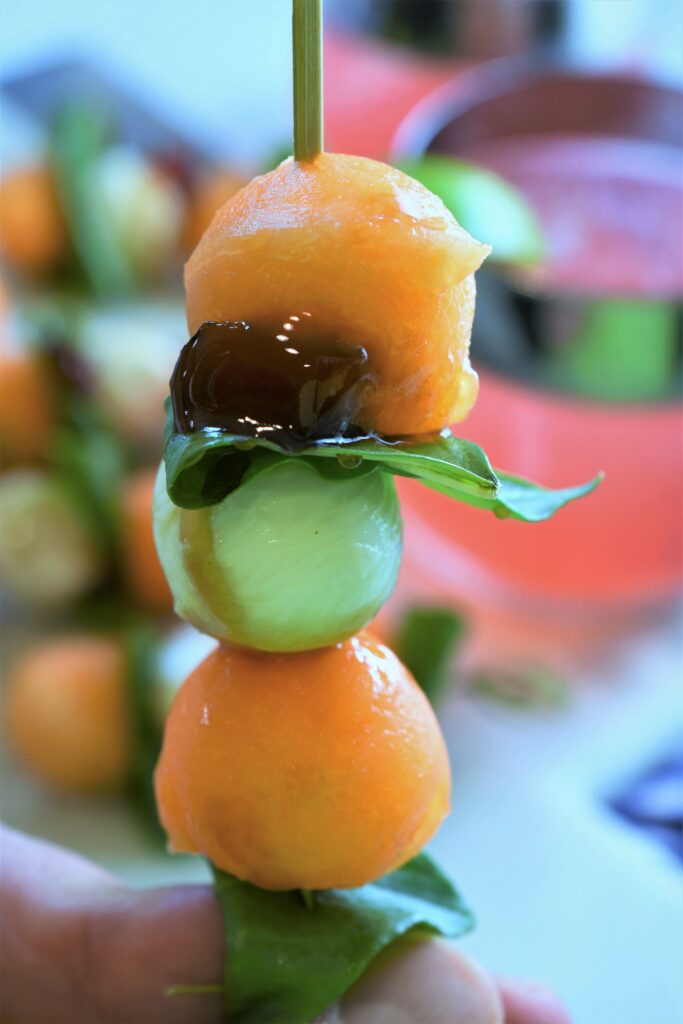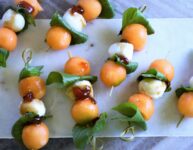 Cantaloupe Caprese Skewer with Pepper Jelly Balsamic Glaze
These refreshing melon Caprese skewers are a nice twist on the classic Caprese salad combining sweet, savory with a hint of spice to kick up your summer parties!
Ingredients
2

Cantaloupes

8

oz

container of plain mini mozzarella balls in water

you will need 24 balls

1

bunch

basil

you will need 48 leaves

1/2

cup

hot pepper jelly

1

tbsp

balsamic glaze

usually sold next to vinegar at most stores

24

5 inch bamboo skewer

I like the knotted end ones
Instructions
Cut the cantaloupes in half and scoop out the seeds and with a melon baller make small balls with 1 1/2 of the melons, this should give you plenty to make 48 small balls

Pull 48 basil leaves from their stems

Drain the water from the package of mozzarella balls

Take a bamboo skewer and thread a folded basil leaf onto it and slide it to the end of the skewer, followed by a melon ball, mozzarella ball, another folded basil leaf and lastly one more melon ball. Do this with the remaining skewers and chill until ready to serve

In a small saucepan over medium/high heat melt together the hot pepper jelly and balsamic glaze together until it is in liquid form, this should take 3 to 5 minutes, whisk occasionally. Taste it to adjust flavor, I wanted mine to be spicier so I added a 1/4 tsp of red chili flakes. Take off heat and set aside for only a few minutes otherwise the mixture will start to firm up again.

Arrange the melon skewers on a platter and drizzle the glaze over each one with a spoon

Serve chilled and makes 24 appetizer sized skewers for 12 party guests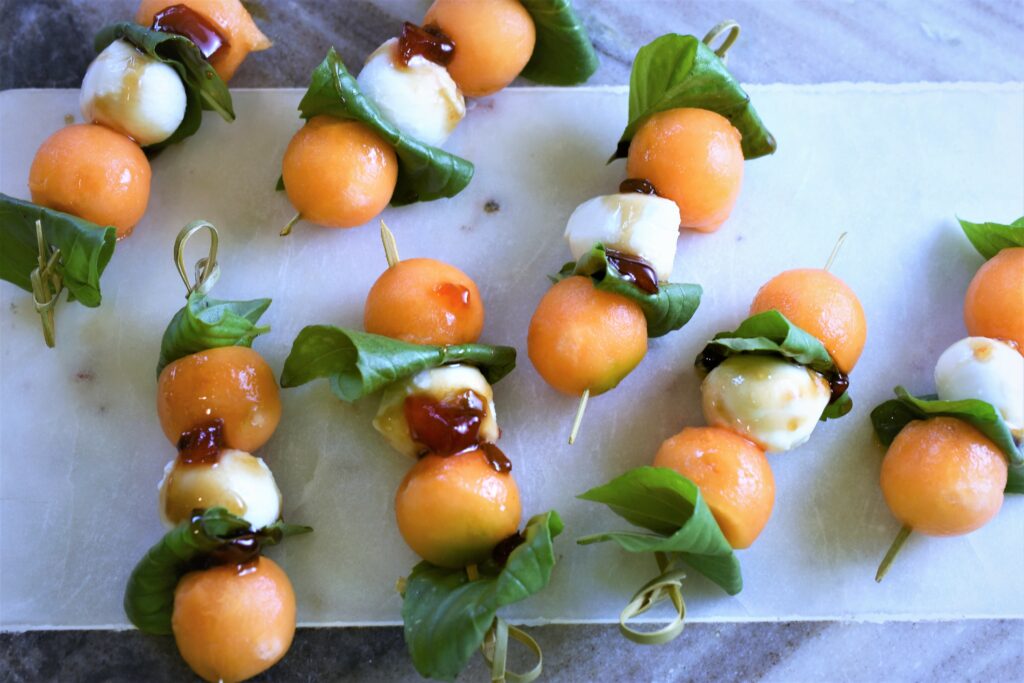 I enjoy learning about the history and origins of food and here is a brief history of the Insalata Caprese, the classic Caprese salad with tomatoes & fresh mozzarella. The first printed mention of the salad was on the menu at the Hotel Quisisana in Capri in the early 1920's… wow, I would give almost anything to stay there!