This savory vegan corn & mushroom bread pudding is a perfect main or side dish. Bringing together shitake mushrooms, cremini mushrooms and corn for a casserole worth celebrating. In addition to the fresh vegetables, sourdough bread leads that tangy flavor. Along with jalapenos that I harvested from my garden for that bit of kick. While making this dish I was thinking of my love for bread puddings, sweet and savory.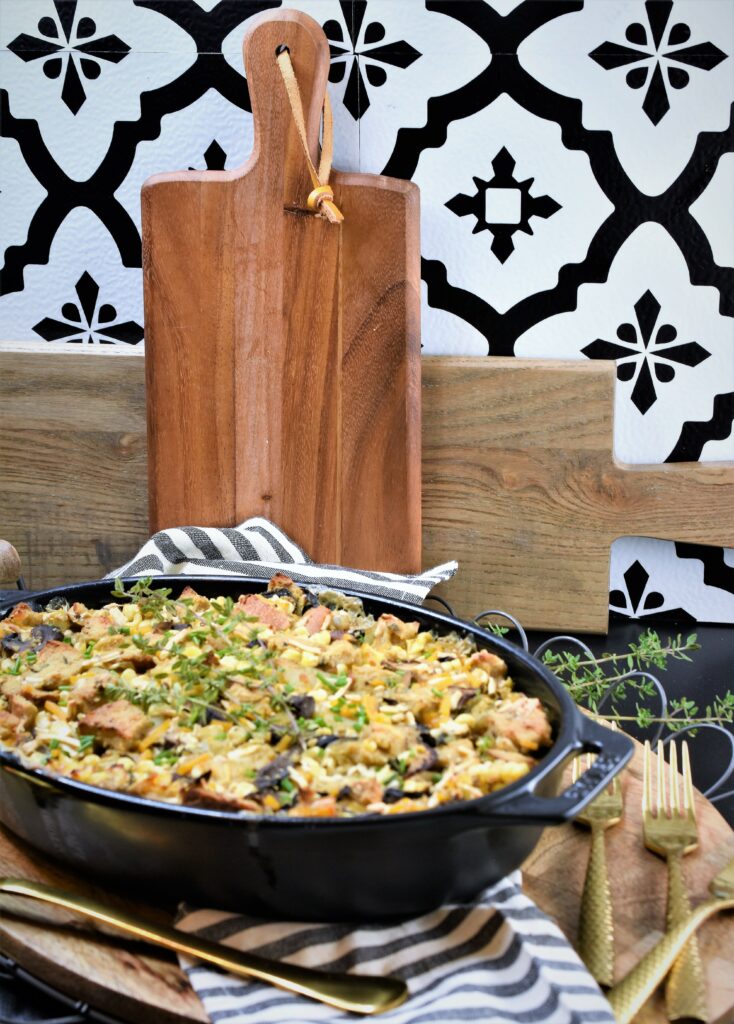 Delicious Day Dreams
The last time I had a piece of warm bread pudding was at a quirky country restaurant in Woodside, California. The restaurant is Buck's of Woodside, not too far from where I live. It's always fun to get out of town for a memorable meal. The 30 minute drive to the country from where I live is fun. The restaurant always reminds me of mom's home cooking. The trip is worth it because they serve a white chocolate bread pudding with toasted pecans and caramel sauce. From the first bite of this dessert had me daydreaming while I was eating. It's so easy to get distracted by delicious day dreams.
Recipe Tips For This Bread Pudding
My bread pudding is a savory one; and even though it's vegan it still has a moist gooey center with a crisp crust. Making this egg and dairy free I used almond milk with cornstarch to replace the eggs and I used vegan cheese for that added richness. When using vegan cheese make sure to get a brand that melts good, I found out the hard way with this recipe that the brand I used melted ok in the center of the pudding but on top the shredded strands of cheese kind of just stood there. It still tasted great, don't get me wrong but I noticed it in the photos.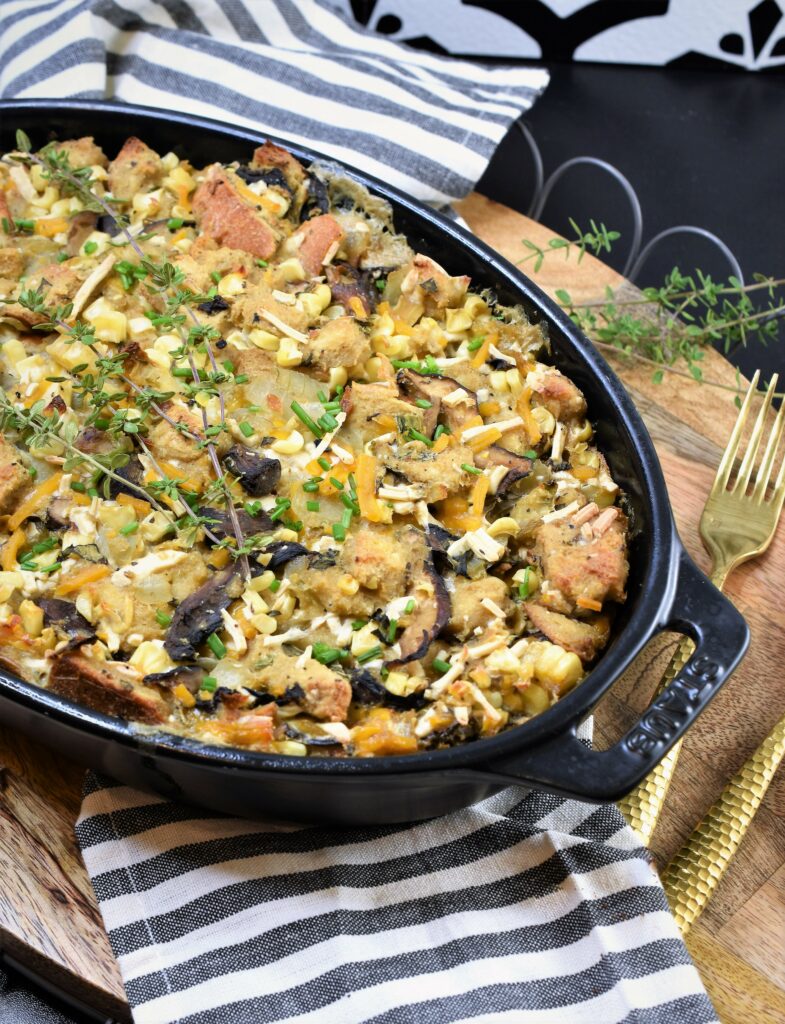 In conclusion this savory vegan corn & mushroom bread pudding will satisfy your cravings for a dinner time pudding but still amazing for breakfast. Because I did have it for a morning meal the day after and I used the microwave to heat up a portion and that was a bad idea, I ended up with a mushy texture. So make sure when heating up this delicious dish the next day that you use a conventional oven or toaster oven to ensure a crispy crust; no one likes a sad and soggy bread pudding.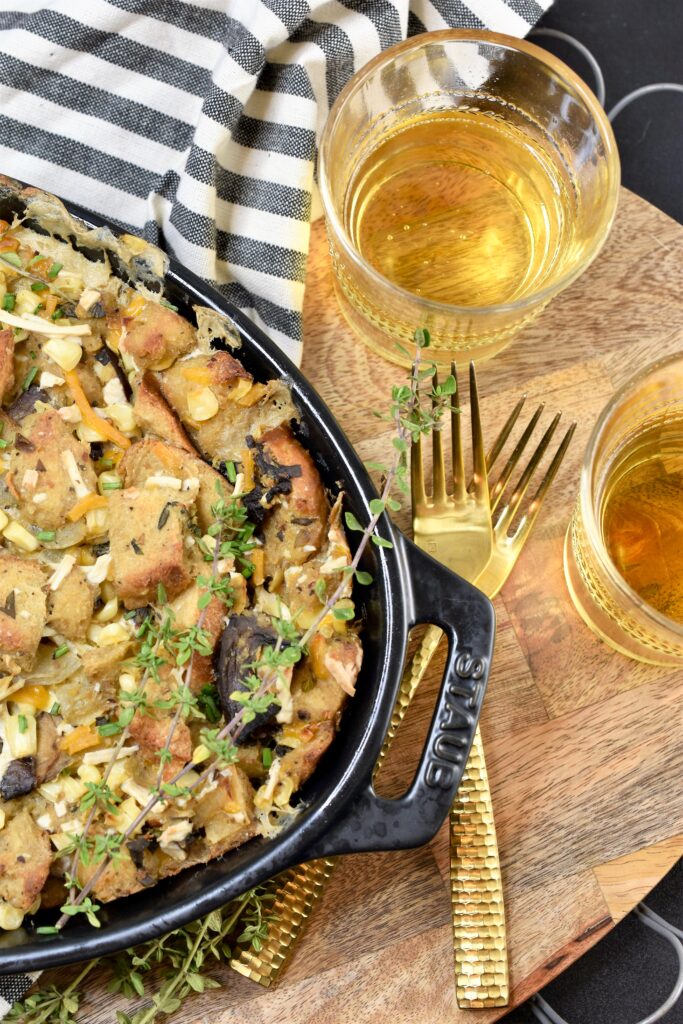 Serve this Corn & Mushroom Bread pudding as a side dish and serve these dishes with it: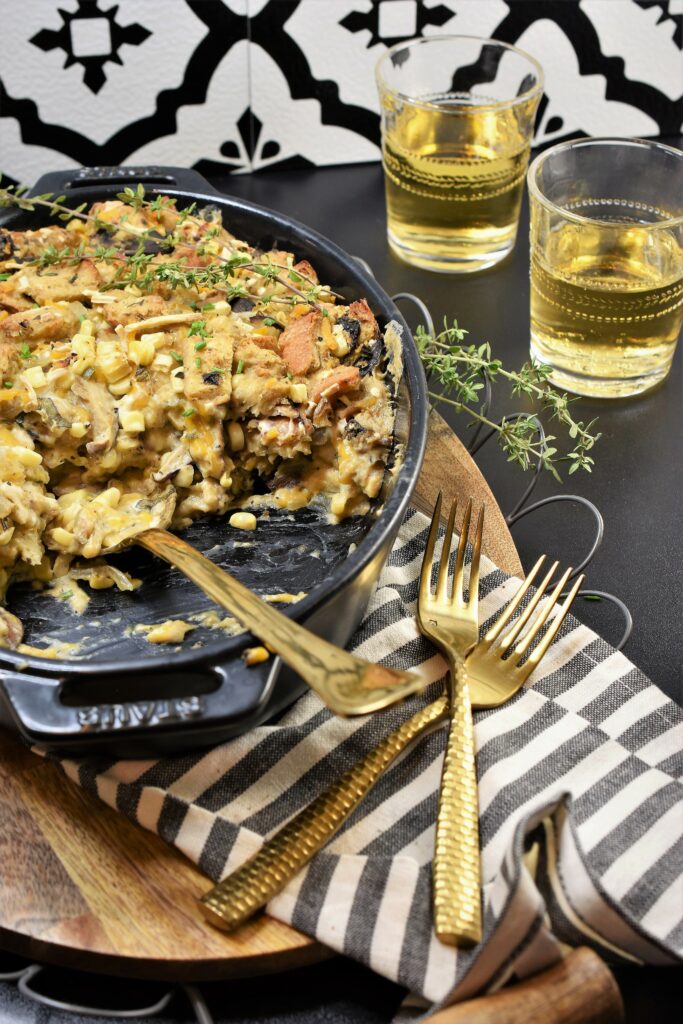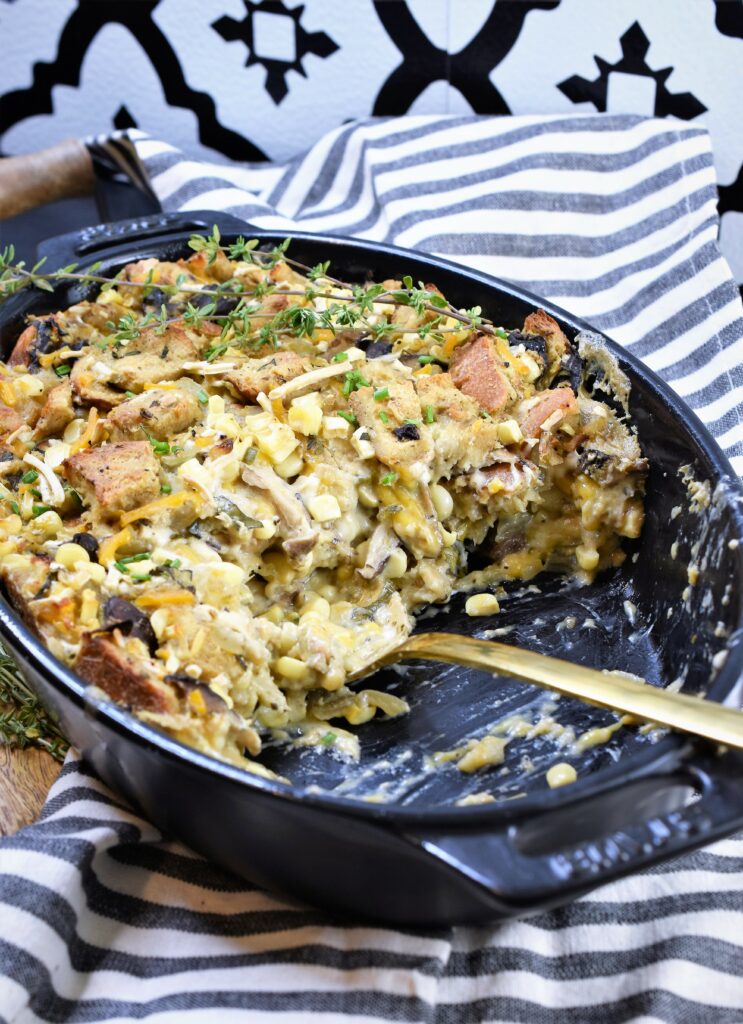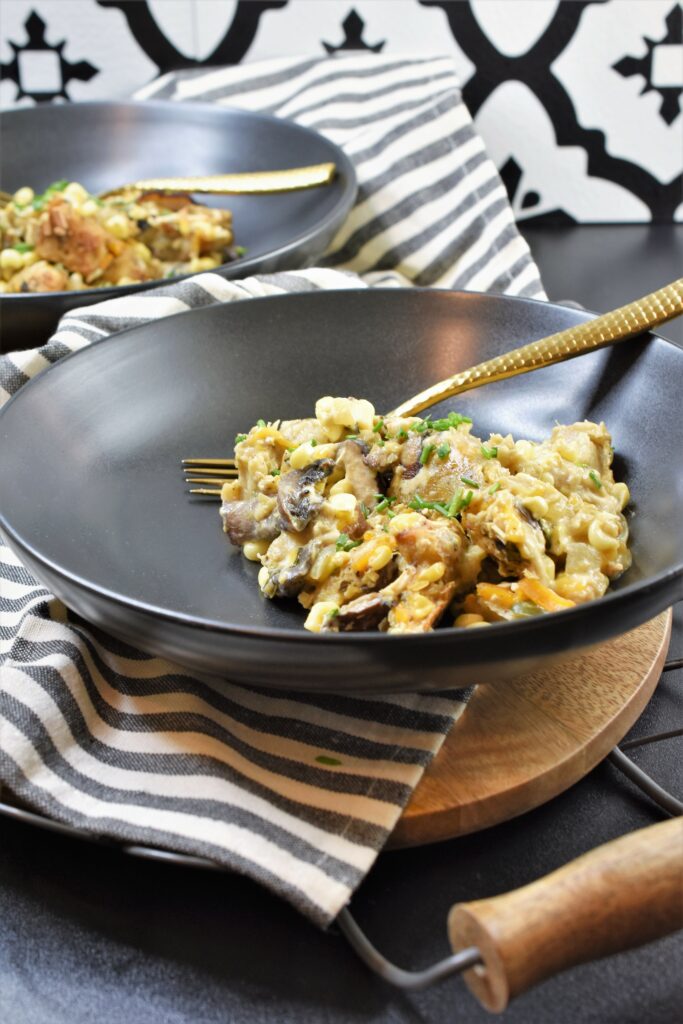 Creative ways serving this Corn & Mushroom Bread Pudding
Make sure when reheating this to use a regular oven, not the microwave
Press the leftovers into a waffle iron and make waffles for brunch and for those that aren't vegan, top it with a couple of eggs
Serve this special at your next holiday by making a mushroom gravy and spoon it over the top along with mashed potatoes
Prepare this the night before and bake the day of serving…makes dinner time easy!
Give it more depth and richness by replacing one cup of the plant based milk with plant based plain yogurt or softened vegan cream cheese
Make it Mexican by replacing the basil with 1/4 cup fresh chopped cilantro and adding soy chorizo making this fiesta ready!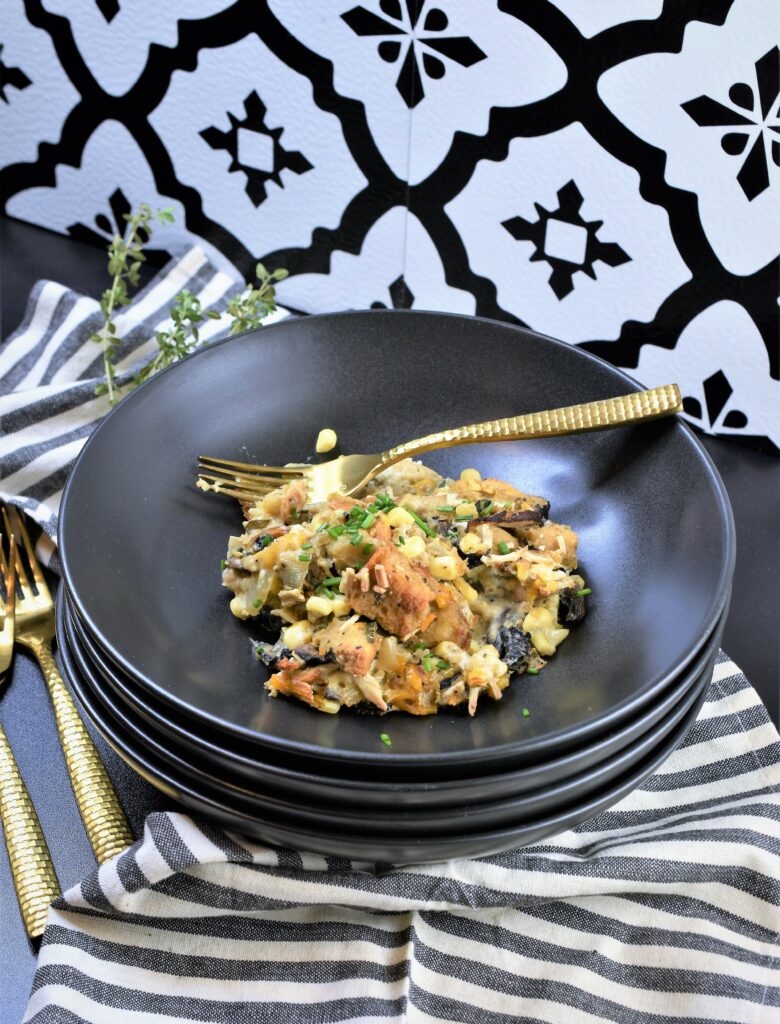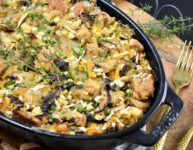 Corn & Mushroom Bread Pudding
This savory vegan bread pudding combines earthy mushrooms, sweet corn and a kick from jalapenos for a delicious main course or side dish for any day of the week or a special holiday dish
Ingredients
6

cups

sliced sourdough bread, cubed

2

tbsp

olive oil

1

medium onion, chopped

2

cloves of garlic, minced

3

cups

sliced cremini mushrooms

2

cups

sliced shitake mushrooms

2

cups

fresh corn, shucked (about 2 cobbs)

2

jalapenos, minced (if peppers are mild, leave the membrane and sees in, if not, cut out)

2

tsp

fresh time, minced

1

tsp

kosher or sea salt, divided

1

tsp

coarse black pepper, divided

2

tbsp

fresh basil, chopped

3 1/2

cups

non dairy milk, I used almond

2

cups

shredded vegan cheese, I used 1/2 cheddar and 1/2 mozzarella style

3

tbsp

corn starch

1

tbsp

Dijon mustard

3

tbsp

nutritional yeast

2

tbsp

sherry vinegar
Instructions
Preheat the oven to 375 F

Place the bread cubes on a sheet pan and spray it with cooking spray and bake until golden and crispy from 12 to 15 minutes, take out and let cool

Add olive oil to a large skillet over medium/high heat and add the onion, garlic, cremini, shitake mushrooms, corn, jalapeno, thyme, 1/2 tsp. salt and 1/2 tsp. pepper. Saute for 10 minutes, stirring occasionally, stir in the sherry vinegar and saute for another 2 minutes or until most of the liquid has been evaporated. Set aside to cool

In a large mixing bowl combine the nondairy milk, vegan cheese, corn starch, Dijon mustard, nutritional yeast, 1/2 tsp salt, 1/2 tsp. pepper and stir well

Add the toasted bread cubes and the mushroom mixture, stir well and let rest for 30 minutes

Pour bread pudding mixture into a cooking sprayed 9X13 casserole or large oval casserole and pack it down a bit

Cook for 50 to 60 minutes or until top is golden brown and crispy, rotating the casserole halfway through

let sit for 8 to 10 minutes and serve
Bread Pudding Facts!
Bread pudding has the most plebeian of origins, but it now shows up on the dessert menus of upscale restaurants. Food historians trace the history of bread pudding to the early 11th and 12 centuries…read on
Bread pudding is a dish with very old roots. It evolved as a use for stale bread. Cooks from many cultures throughout history have been loathe to waste stale bread, so they invented many dishes, both savory and sweet, that utilize it.