These 6 essential must have delicious phyllo cup recipes have helped me provide fantastic party bites for many years to my clients. Phyllo cups are always on hand at any time of the year in my freezer.  They make great appetizers or mini desserts and an easy base for so many recipes.  They are an essential party food in my opinion and easy to prepare, not to mention scrumptious.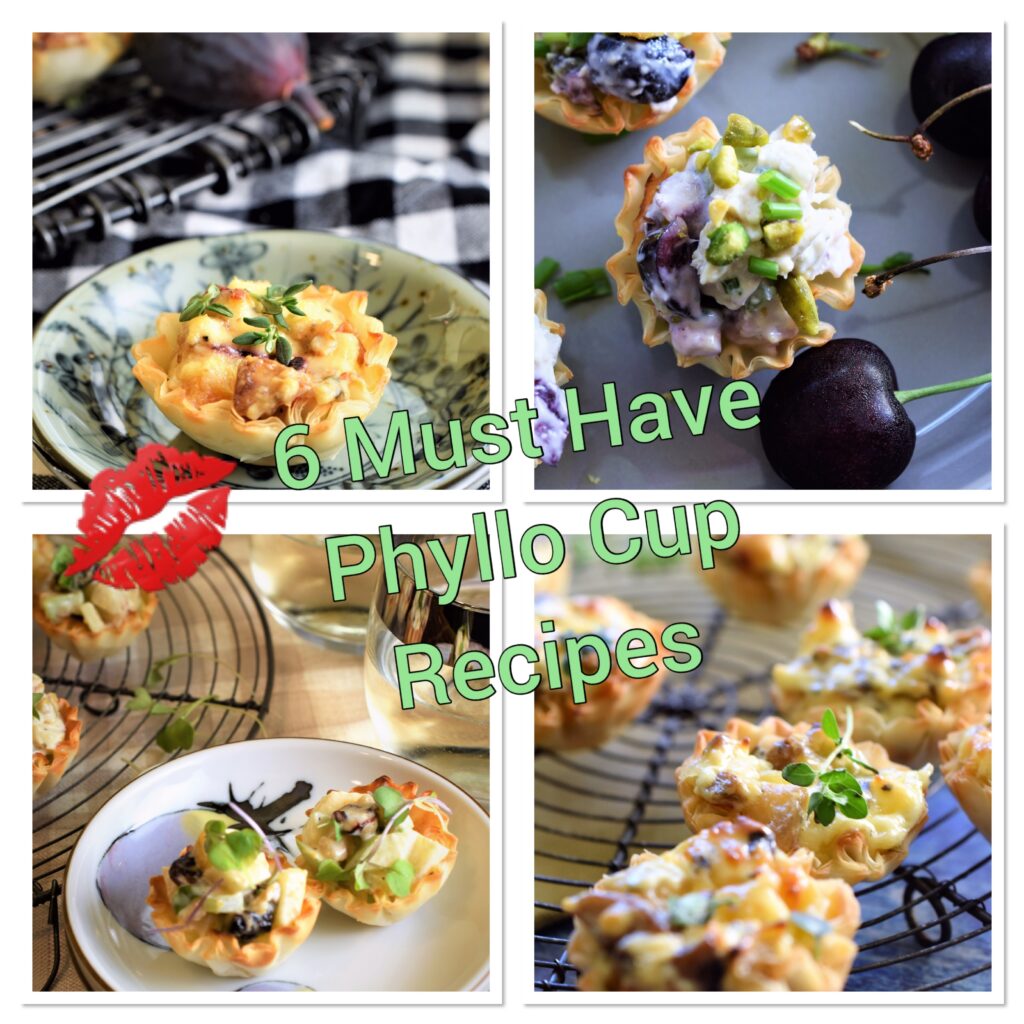 I fall forward for phyllo
One day while shopping at the grocery store putting box after box of phyllo cups in my cart hearing a familiar voice of a catering client behind me saying, "I knew that was you", after she noticed me with a cart full of dozens of phyllo cups while falling over and bent into the freezer gathering more. We had a good laugh and she had mentioned she wanted to book a party and that my artichoke, ricotta & Parmesan tarts were a must that her party guests crave. The below 6 must have phyllo cup recipes are perfect for formal or casual affairs. These petite morsels will keep those party guests smiling.
Mini Waldorf Salad in Phyllo Cups
1. Mini Waldorf Salad in Phyllo Cups were served at a memorial and my client had mentioned they were a must since her late husband and her always had a constant joke about Waldorf Salad from their favorite T.V. show. Food brings back memories and makes new ones, this is why I love helping people with good food and recipes.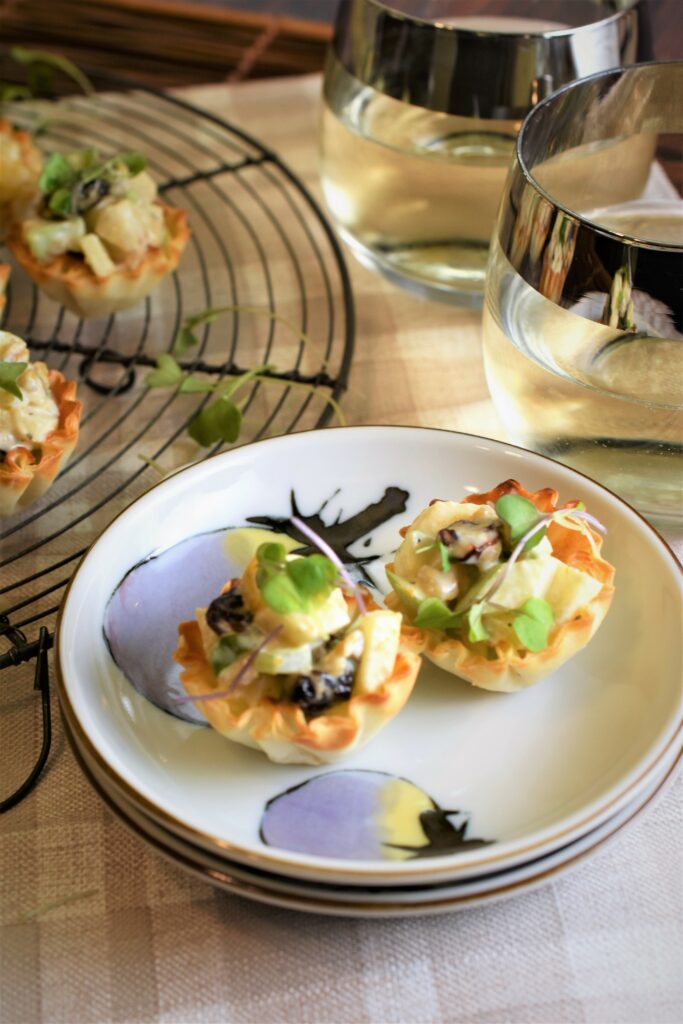 Mushroom & Gruyere Cheese Phyllo Tartlets
2. Mushroom & Gruyere Cheese Phyllo Tartlets are a combination of earthy mushrooms and rich, nutty Gruyere cheese. Mushrooms are a great food to cook and with so many varieties and flavors the recipes are virtually endless. One favorite are Porcini Mushrooms and this dried variety provide a rich, deep flavored broth once reconstituted for sauces or dishes like risotto, yum!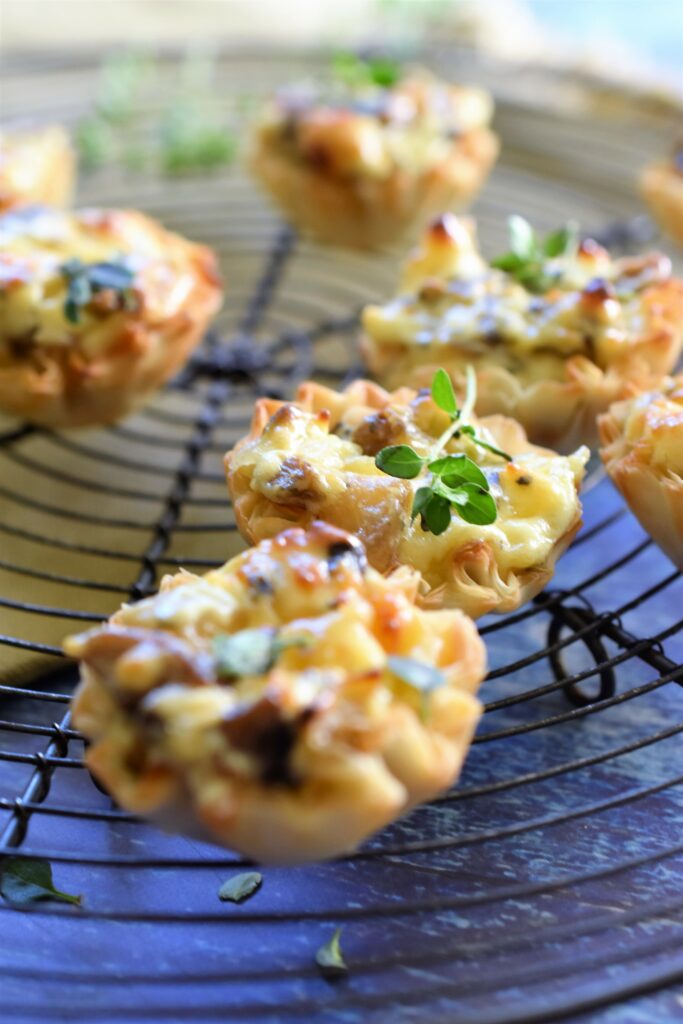 Artichoke, Ricotta & Parmesan Phyllo Tarts
3. Artichoke, Ricotta & Parmesan Phyllo Tarts are a classic go to menu item for the last 20 years. One of the first recipes I developed after discovering phyllo cups at the grocery store. This appetizer is similar to my popular artichoke dip from way back and is still popular. Northern California is known for artichoke farms and near Half Moon Bay in Pescadero, is Duarte's Tavern, a restaurant since 1894 and their cream of artichoke soup is famous. If you can't travel there to enjoy their soup you can make it yourself Duarte's Cream of Artichoke Soup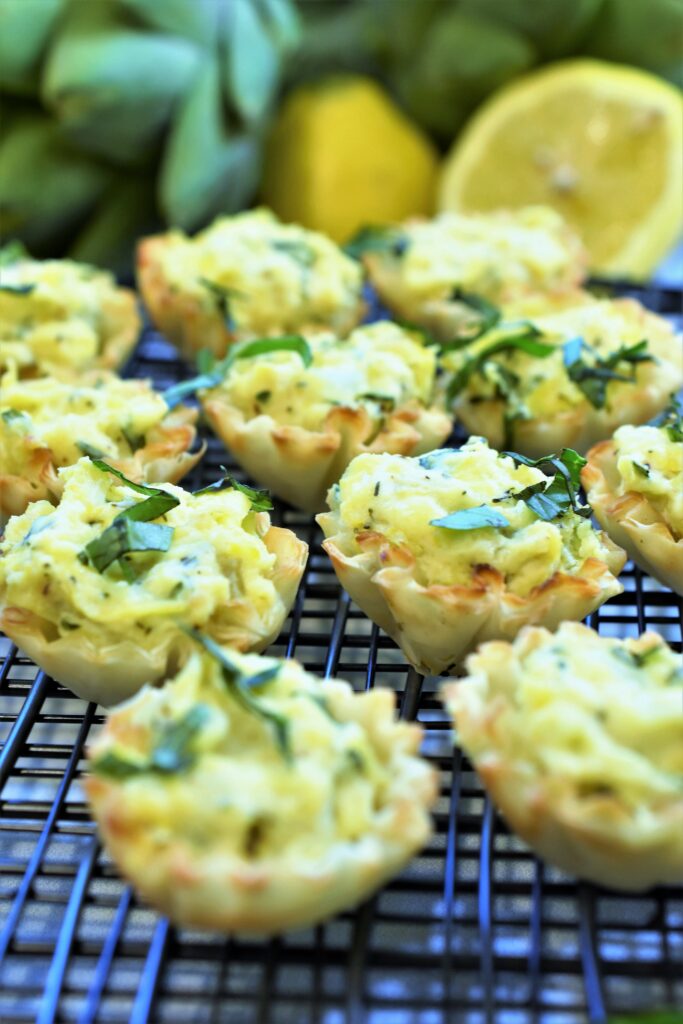 Fig, Caramelized Onion and Blue Cheese Tarts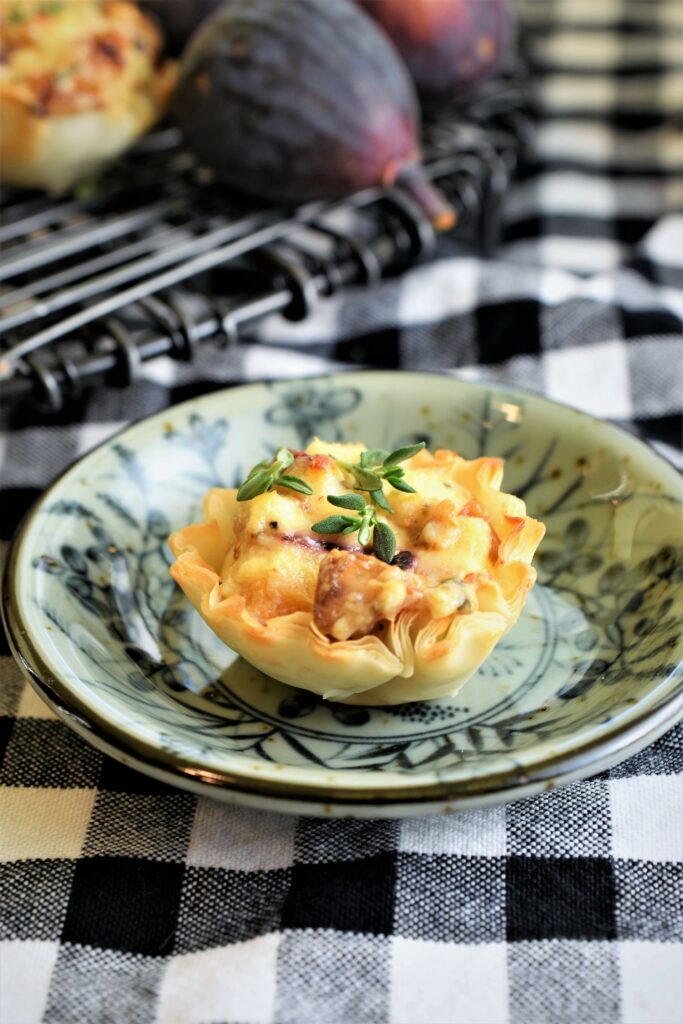 Chicken Salad Tarts with Gorgonzola, Pistachios & Cherries
5. Chicken Salad Tarts with Gorgonzola, Pistachios & Cherries are the perfect mini morsel to make during cherry season. They are a great choice for warm weather tea parties, bridal showers and baby showers. Magic happens serving a mini salad that ladies ooh and awe over; maybe they are feeling less guilty about eating party food. Between you and me, one time I saw a petite gal stack her plate with 15 pigs in a blanket and she was like a size 4, maybe she read this article on how to eat like a runway model.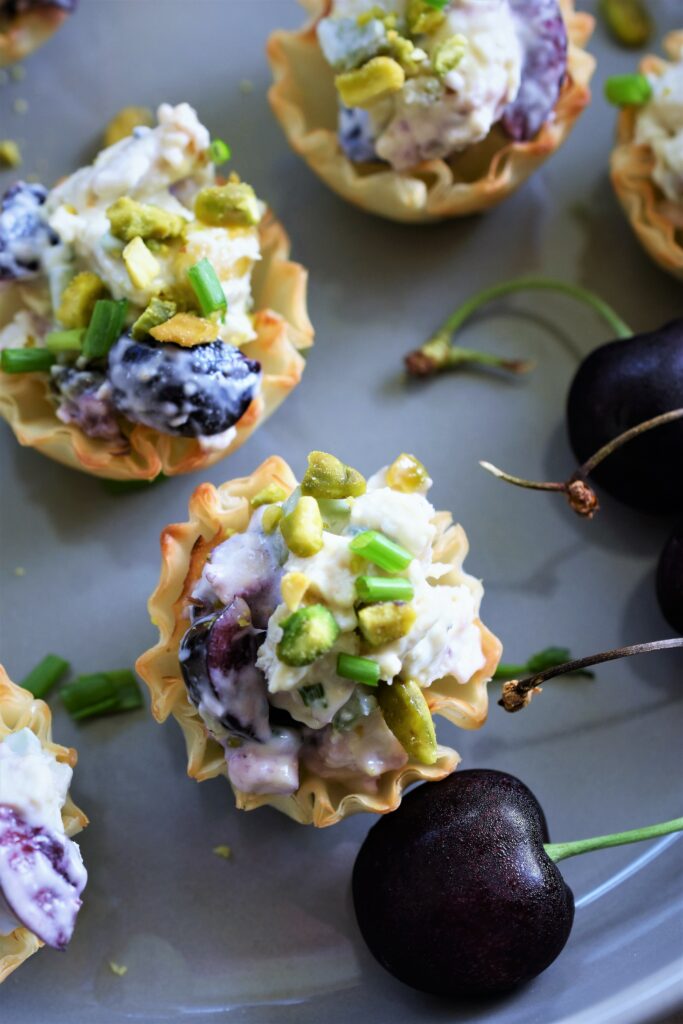 Caprese Salad Phyllo Cups